A message

seo vancouver, seo in vancouver, vancouver search engine optimization, seo,
The ROUSH P-51 Mustang Proves The Future is Here
Tags:
(Posted on Jul 13, 2017 at 11:46PM )
 
The future has arrived. Smartphones, tablets, and social media dominate modern life. Now it's time to introduce the next big thing. No, not flying cars. I'm talking about ROUSH's 2017 P-51 Mustang.

Ford combined the latest design elements, technology, and engineering capabilities to create a stellar modern invention. The P-51 Mustang uses ROUSH's Active-Exhaust, which lets drivers control their car via an iOS phone. You can alter the time and degree of the exhaust valve's operation straight from your smartphone.
 
ROUSH's new model demonstrates more than just new technology. It also packs a powerful punch. The P-51, named after a fighter plane, is the strongest pre-titled car ever built. Its 5.0-liter Coyote V-8 comes with a 2.3-liter TVS supercharger with a stage 2 upgrade. What does that mean? The engine has 727-horsepower that lets this Mustang flex its muscles.
 
The P-51 combines sleek new features with old-school favorites in its design. It's modeled after the famed pony car and current Ford Mustangs but also includes a range of alterations. Exclusive to the new model are custom badges, front grille ambient lighting, a rear deck lid spoiler, and a carbon fiber front splitter. Take a look to learn more:
 
 
The future may be here but it might not last long. Only 51 2017 ROUSH P-51's are expected to be built. But fans can enjoy a baseline model in the 2017 Mustang GT. Contact us today to find the car for you.
2018 Ford Mustang Gets Retro Look
Tags:
(Posted on Jul 11, 2017 at 06:55PM )
The Ford Mustang is a symbol for nostalgia. It's a vehicle that beckons memories of the good
ole
' days of the American muscle car. So it's natural that it would be in line for a retro facelift. It looks like a vintage upgrade is coming sooner than expected.
 
Ford recently announced a number of old school touches will be added to their 2018 Pony Package. While the model includes modern sensibilities, it's also loaded with retro features like a chrome corral and a tri-bar pony badge on the rear. A stripe above the side skirts helps to complete the classic look.
 
The 2018 Ford Mustang Pony Package will include the return of at least one iconic item – the logo surrounded in a chrome corral. This marks the first inclusion of the badge design since the anniversary package in 2015.
 
The "pony-in-corral" grill badge isn't the only reason to get excited for the 2018 Ford Mustang. It will also include sleek new features like 19-inch polished aluminum wheels, bright beltline and window trim, and carpet floor mats with an embroidered logo.

Take a look:
 
The Pony Package is a dress-up version of the 2018 Ford Mustang. It's only available in an EcoBoost model that's armed with a 2.3-liter turbocharged I4 engine. You cannot get this design with the 2018 GT with 5.0L V8.
 
The future has arrived with an ode to the past. The 2018 Ford Mustang is expected to arrive at dealerships in October. Call us today to learn more about this new model.


 
Ford Brings Back The Chrome Corral On The 2018 Mustang
Tags:
(Posted on Jul 10, 2017 at 11:14PM )

There is nothing more iconic than the pony emblem on the Ford Mustang. Since 1964, the distinct logo has marked the car to let everyone know that, yes, this is a Mustang. While the horse has remained, one notable feature that has been absent in recent years is the equally unique chrome corral that once surrounded the badge.
Now the pony is coming back home.
Ford recently announced a new appearance package for the 2018 Mustang that will feature the chrome corral right in the middle of the grill. The addition honors the car's long heritage of being an icon among classic vehicles. However, don't assume this Mustang is just a vintage remake. This offering will come with Ford's EcoBoost technology which increases engine performance without sacrificing overall efficiency. The company hopes an additional port fuel injection and 10 speed transmission will also improve milage.
Other updates in the Pony Package include 19" polished aluminum rims, ebony horse logos on the carpeted floor mats, and a tri-bar mustang badge on the rear decklid. New LED headlights, fenders, and a lower vented hood round out the model's design upgrades.
Look for the 2018 Mustang in October. Contact us today to reserve your own steed.
Ford Introduces Small But Mighty New Crossover
Tags:
(Posted on Nov 16, 2016 at 01:00AM )
In advance of the Los Angeles Auto Show, Ford is excited to announce the newest member of its lineup, the EcoSport – the smallest crossover in its family, according to USA Today.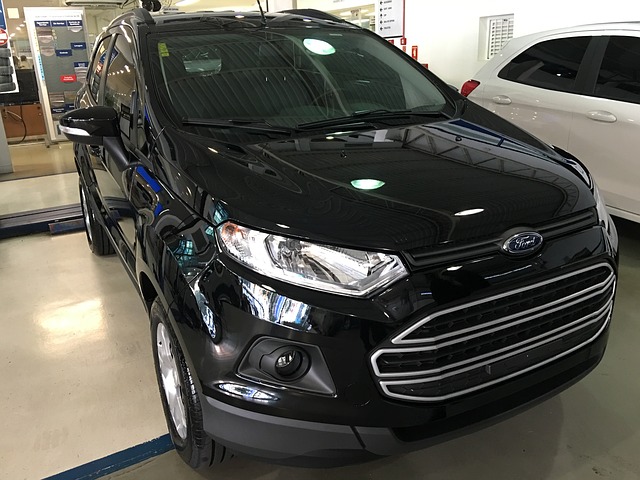 Small sized SUVs are experiencing increasing popularity. This makes the launch of EcoSport perfectly timed in the market. The Ecosport is aimed towards empty nesters and millennials, who crave the versatility without needing the full size of the Ford Explorer.

While similar to the Ford Escape, the EcoSport is smaller in size and sportier in design. It will be available in 2018 in four versions, the S, SE, SES, and Titanium. The EcoSport features a 1.0-liter three-cylinder turbocharged EcoBoost engine and front-wheel drive. Drivers will have the option to upgrade to an optional 2.0-liter four-cylinder engine with all-wheel drive.

Ford EcoSport Titanium edition will boast a state of the art sound system complete with 10 675-watt speakers and feature a Harman audio system. The focus was on creating an elite, world-class music experience for Titanium drivers. The emphasis on audio made it only natural that EcoSport's prestigious launch, titled "Go Small, Live Big", took place at the Hollywood Walk Of Fame and featured hip-hop producer and performer DJ Khaled.

The Ford EcoSport is already available in the Indian market, where it will continue to be produced. Ford will be the first American automaker to import Indian produced vehicles to the US.

Contact Key West Ford today for all of the details and updates on this exciting new crossover.
The 2018 Ford EcoSport Is Already Gaining Buzz
Tags:
(Posted on Nov 16, 2016 at 12:09AM )
Do you love the look and feel of an SUV, but are put off by the bulkiness? If so, you're not alone. Soccer moms and retirees alike are seeking out rugged, sporty vehicle options that don't take up the whole road. Enter the Ford EcoSport.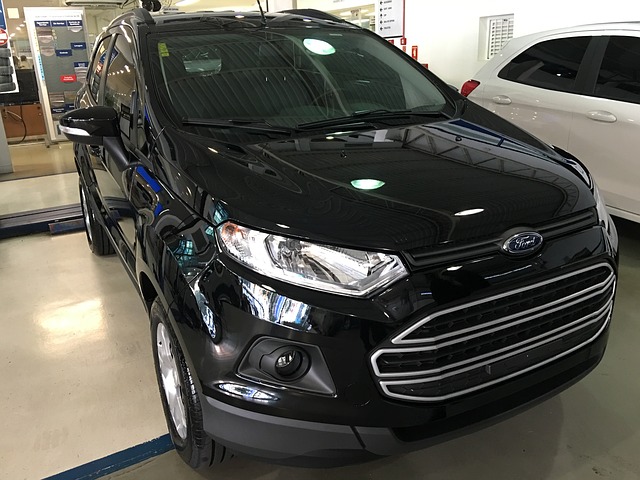 In response to this shift in SUV thinking, Ford is bringing EcoSport to the US and Canadian markets. According to Driving .ca, the big announcement was made on Snapchat, with DJ Khaled at the helm of the reveal. While this type of social media savvy message may not have caught the attention of the empty nesters, the buzz is quickly spreading. In fact, the EcoSport is already highly acclaimed in other parts of the world. According to Autoblog.com, it's the best selling compact SUV outside of the US.

EcoSport's sleek and sporty look has hints of both the Ford Edge and Escape, but definitely cuts a figure all its own. It has a streamline, but muscular style that is sure to please a wide range of buyers. Despite its trim design though, as explained on the Ford website, EcoSport's interior is notably roomy, with ample head and leg space.

Those interested in the EcoSport will have their choice of 10 colours and four trim levels. Higher end models have an 8-inch colour touch screen. The available Sync 3 technology with Apple CarPlay and Android Auto, push the intuitive nature of this vehicle over the top.

Watch for EcoSport to hit the market in early 2018. To view Ford's exciting current lineup contact us today.
August 2016 saw quite a dip in muscle car sales. While most drivers today choose a more practical vehicle for their day-to-day, this didn't seem to apply to the 2015 Ford Mustang.
With an astonishing 22-month lead in monthly sales, the Mustang beat both the Dodge Challenger and the Chevrolet Camaro by a significant amount, 
according to 
TorqueNews
.
In fact, the Mustang has been the leader in muscle car sales ever since the 2015 model was released back in November 2014. Talk about impressive! You're probably wondering what makes the 2015 Mustang so special. Watch below as an owner reveals what it's like to own one and drive it every day. 
Even though there are just a few months left in 2016, we can confidently predict that the Ford Mustang will take the cake again and win the annual muscle car sales race for the second consecutive year. As of September 2016, Ford has sold about 81,000 models of the Mustang and with the current average of around 10,000 units per month, there's no denying that this sports car is on its way to exceeding the 100,000 mark. 
Want to see what all the hype is about for yourself? Why not test-drive a Ford Mustang today at Sound Ford? You might just see why this hot rod continues to crush its competition each month! 
One of the worst things about driving in a big city is finding a parking spot. Circling streets and garages to find a space can be both time consuming and frustrating - especially if you're in a rush.

We have good news for you that can help solve all (or most) of your issues while hunting for a place to park - the FordPass app. You're probably thinking, "an app to find a parking spot?" Yes! Read on to learn more.
According to AutoBlog, the FordPass works similar to a GPS on your mobile device, except it will find your location and display all of the parking garages surrounding you. 
The best part is, i
f the garage you choose supports the app, you can choose your parking spot right from your phone. This additional feature is made for those who wish to claim a spot ahead of time.

Although there are still a few minor tweaks to be made, the app itself has a high success rate and is known to work quite well. Currently this mobile feature is availabe in 160 cities and is in the process of adding more to the list. 

Thanks to Ford, we can finally drive into most cities without unexpected delays due to the parking spot search! 
2016 Ford Focus RS Released Globally
Tags:
(Posted on Aug 31, 2016 at 09:25PM )
Europe sometimes seems to get all the spoils. At least that's true relative to the Ford Focus RS since its 2002 release only in Europe. Where it's exclusively resided for the last 14 years.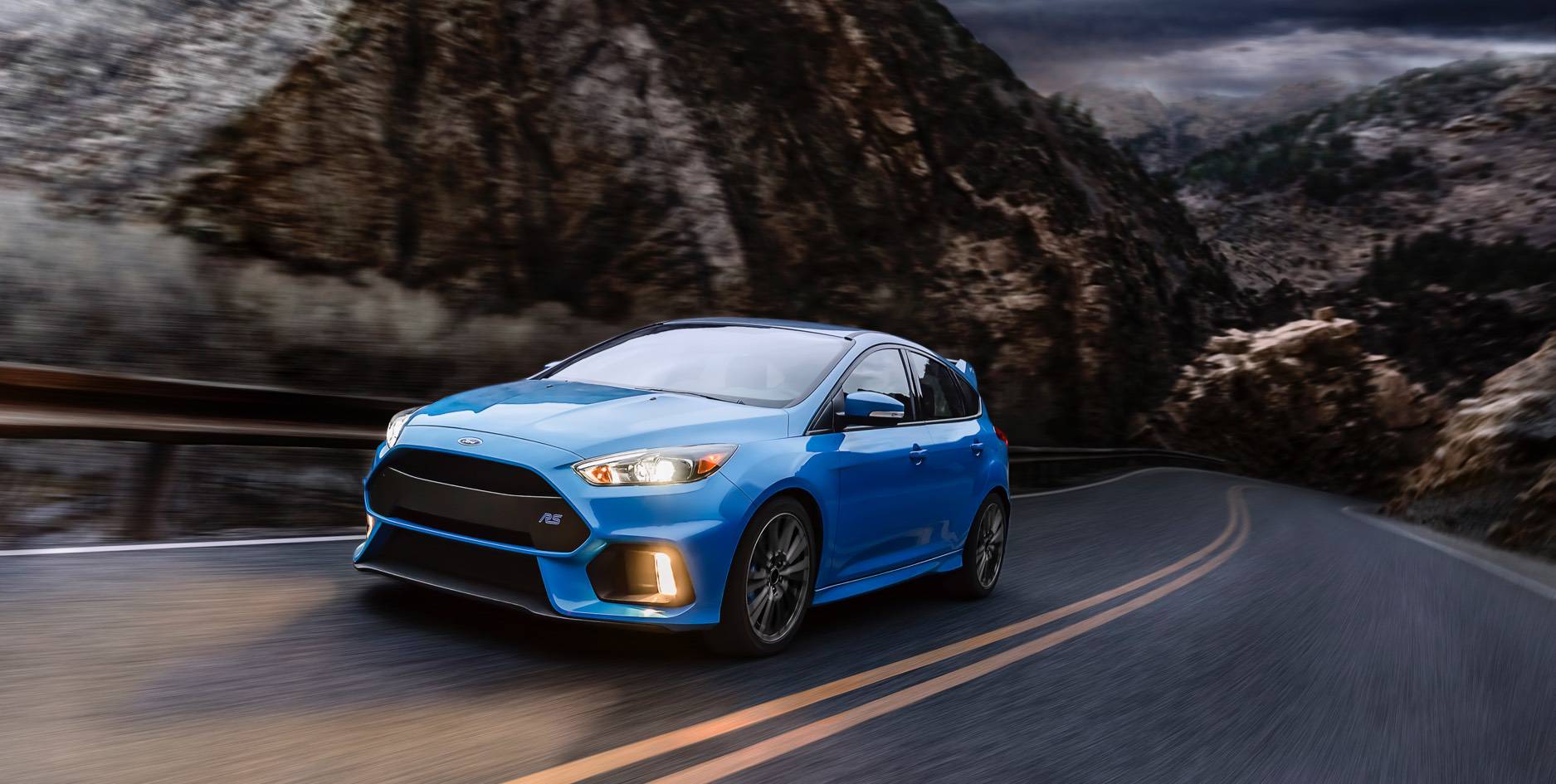 That is, until now.

Introducing the sleek, hatch-back 2016 Ford Focus RS, available worldwide for your driving pleasure.

New York Daily News reports of a test drive, that this turbocharged, manual shift vehicle has the awe of a sports car in compact design, housing a 2.3-liter GTDI EcoBoost 4-cylinder engine. This baby growls with 350 horsepower at 6,000 rpm. And the 350 pound-feet of torque at 3,200 rpm certainly isn't anything deserving of guffaw.

While it may look the part of a compact sedan, the Ford Focus RS is certainly not meant for the carpool lane (though, who would blame you if you picked the kids up in it occasionally?). It's all-wheel-drive goodness disguised as a hatch-back. Maybe it's not totally suited for mudding or off-roading, but it will certainly get you where you need to go with a bit of flair under the hood and at your fingertips.

So, welcome to global experiences of scenic mountain S-curves and farm country straight-aways, Ford Focus RS. We sure hope you've brushed up on a few languages during your manufacturing childhood – you're going to need it in the adult world!
The Ford Super Duty has always been able to tackle tough jobs that are often times also difficult, yet allowed the driver a peace of mind in its handling power. And Ford Motor Company's 2017 model doesn't plan on taking a step back from this idea any time soon. The all-new 2017 Ford F-Series Super Duty is the strongest and most capable in its class, with an astounding 48-gallon tank that significantly reduces the times in between each fueling session. This massive tank addition is 22 percent larger than the 2016 Super Duty and 37 percent larger than the 2016 gas engine's 35-gallon tank.

What's great about the new model is that it has an improved water separator and fuel filter design for less maintanence work needed. AutoWeek also expressed how excited they were in regards to this new model, and significantly noticed how the torque of the Super Duty is close in comparison to the capabilities of some eighteen wheelers! One thing that is for sure is that the 2017 Ford F-Series comes with a whole new level of power, and much lower need to constantly fuel and maintain at inconvenient times. The 2017 Ford F-Series Super Duty will be available this Fall for sale in Renton, WA, and will start around $32,535.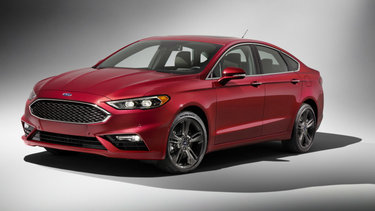 Ford Motor Company has released a big announcement for the 2017 Ford Fusion – a new performance-oriented model, the Fusion V6 Sport. According to Motor Authority, the V6 Sport will consist of a 2.7-liter twin-turbocharged V-6 with 325 horsepower and 380 pound-feet of torque. It will also offer a 6-speed, paddle-shifted automatic transmission and all-wheel drive. The best part is that this model will come with a drive modes selector with at least seven modes.

The dial located in the center console will allow drivers to select the mode and change systems such as suspension, throttle, steering and transmission. The modes to keep an eye out for are; the Engine mode, which improves throttle response, the Handling mode, which stiffens the suspension by adjustable dampers, and the Transmission mode, which hold the gears for a longer amount in time, which improves responsiveness. 

So the big question is when we can find the 2017 Ford Fusion for sale in Renton, WA. The answer is that they will most likely be making their way into show rooms around early fall. What we do know for sure, that Ford was willing to share, is that the starting price will be $34,350.