A message

seo vancouver, seo in vancouver, vancouver search engine optimization, seo,
The ROUSH P-51 Mustang Proves The Future is Here
Tags:
(Posted on Jul 13, 2017 at 11:46PM )
 
The future has arrived. Smartphones, tablets, and social media dominate modern life. Now it's time to introduce the next big thing. No, not flying cars. I'm talking about ROUSH's 2017 P-51 Mustang.

Ford combined the latest design elements, technology, and engineering capabilities to create a stellar modern invention. The P-51 Mustang uses ROUSH's Active-Exhaust, which lets drivers control their car via an iOS phone. You can alter the time and degree of the exhaust valve's operation straight from your smartphone.
 
ROUSH's new model demonstrates more than just new technology. It also packs a powerful punch. The P-51, named after a fighter plane, is the strongest pre-titled car ever built. Its 5.0-liter Coyote V-8 comes with a 2.3-liter TVS supercharger with a stage 2 upgrade. What does that mean? The engine has 727-horsepower that lets this Mustang flex its muscles.
 
The P-51 combines sleek new features with old-school favorites in its design. It's modeled after the famed pony car and current Ford Mustangs but also includes a range of alterations. Exclusive to the new model are custom badges, front grille ambient lighting, a rear deck lid spoiler, and a carbon fiber front splitter. Take a look to learn more:
 
 
The future may be here but it might not last long. Only 51 2017 ROUSH P-51's are expected to be built. But fans can enjoy a baseline model in the 2017 Mustang GT. Contact us today to find the car for you.
2018 Ford Mustang Gets Retro Look
Tags:
(Posted on Jul 11, 2017 at 06:55PM )
The Ford Mustang is a symbol for nostalgia. It's a vehicle that beckons memories of the good
ole
' days of the American muscle car. So it's natural that it would be in line for a retro facelift. It looks like a vintage upgrade is coming sooner than expected.
 
Ford recently announced a number of old school touches will be added to their 2018 Pony Package. While the model includes modern sensibilities, it's also loaded with retro features like a chrome corral and a tri-bar pony badge on the rear. A stripe above the side skirts helps to complete the classic look.
 
The 2018 Ford Mustang Pony Package will include the return of at least one iconic item – the logo surrounded in a chrome corral. This marks the first inclusion of the badge design since the anniversary package in 2015.
 
The "pony-in-corral" grill badge isn't the only reason to get excited for the 2018 Ford Mustang. It will also include sleek new features like 19-inch polished aluminum wheels, bright beltline and window trim, and carpet floor mats with an embroidered logo.

Take a look:
 
The Pony Package is a dress-up version of the 2018 Ford Mustang. It's only available in an EcoBoost model that's armed with a 2.3-liter turbocharged I4 engine. You cannot get this design with the 2018 GT with 5.0L V8.
 
The future has arrived with an ode to the past. The 2018 Ford Mustang is expected to arrive at dealerships in October. Call us today to learn more about this new model.


 
The 2018 Ford EcoSport Is Already Gaining Buzz
Tags:
(Posted on Nov 16, 2016 at 12:09AM )
Do you love the look and feel of an SUV, but are put off by the bulkiness? If so, you're not alone. Soccer moms and retirees alike are seeking out rugged, sporty vehicle options that don't take up the whole road. Enter the Ford EcoSport.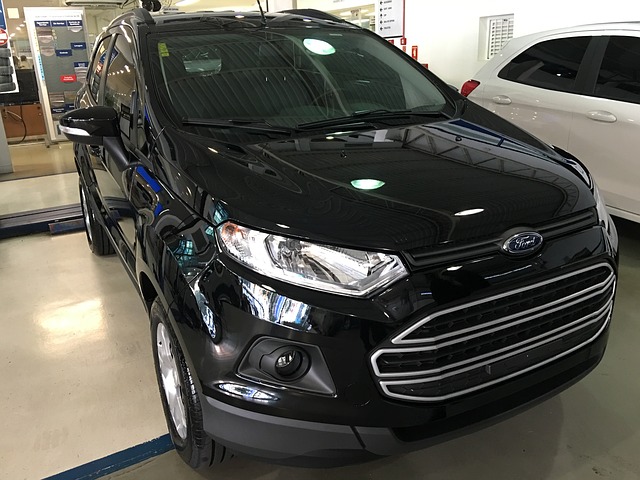 In response to this shift in SUV thinking, Ford is bringing EcoSport to the US and Canadian markets. According to Driving .ca, the big announcement was made on Snapchat, with DJ Khaled at the helm of the reveal. While this type of social media savvy message may not have caught the attention of the empty nesters, the buzz is quickly spreading. In fact, the EcoSport is already highly acclaimed in other parts of the world. According to Autoblog.com, it's the best selling compact SUV outside of the US.

EcoSport's sleek and sporty look has hints of both the Ford Edge and Escape, but definitely cuts a figure all its own. It has a streamline, but muscular style that is sure to please a wide range of buyers. Despite its trim design though, as explained on the Ford website, EcoSport's interior is notably roomy, with ample head and leg space.

Those interested in the EcoSport will have their choice of 10 colours and four trim levels. Higher end models have an 8-inch colour touch screen. The available Sync 3 technology with Apple CarPlay and Android Auto, push the intuitive nature of this vehicle over the top.

Watch for EcoSport to hit the market in early 2018. To view Ford's exciting current lineup contact us today.