Autospeak-Straight Talk contains articles covering digital and social media marketing social communities and events marketing
Autospeak-Straight Talk
(Login)
Your Mobile Solution-Don't Get it Wrong
Tags:
(Posted on Apr 10, 2014 at 05:13AM by William Cosgrove)
We all know that mobile is playing an increasingly important role in online marketing today just ask the 85% of people who say that mobile devices are a central part of everyday life and further illustrated below by this demographic smartphone ownership survey published by Pew Research January 2014.
Daily Activities on smartphones and tablets (Marketing charts February 2014)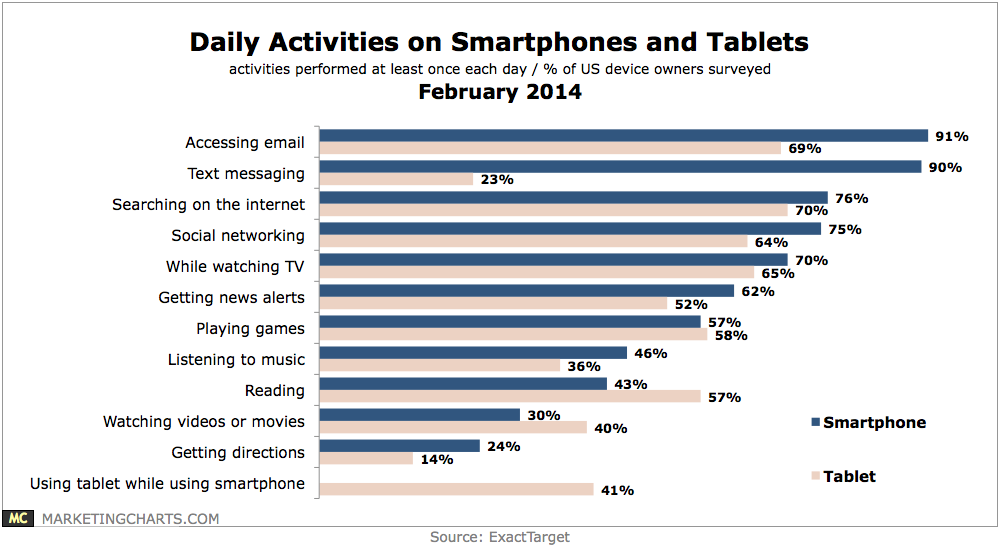 Furthermore,  according to web and mobile measurement firm comScore 55% of all time spent with online retail as of June 2013 occurred on a mobile device, 45% occurred on desktops and laptops. Specifically, smartphones accounted for 44% of retail Internet minutes while tablets accounted for 11%.

We can all agree on the importance of mobile today but we also know to keep in mind that statistics can be misleading depending on who is using them and what they are trying to accomplish.

This article seeks to address all the talk recently on the popularity of mobile applications and put it in perspective and to address an apparent content deficiency on many mobile platforms which today is one of the most important media forms for driving customer engagement.

First, the fact is in a lot of cases having a mobile app for most businesses is not going to provide much if any marketing benefit in reaching consumers. So before you make an investment in building your own mobile app make sure you know what the statistics are really saying and if it is right for you to act on, and if building your own app is going to provide you with any real or long term benefit.

Is a mobile app a substitute for a mobile Website/mobile-optimized Website?

According to Canalys., the total number of apps through the Apple App Store and Google Play, just two of the largest, offer over 1.6 million mobile apps. So unless you build an app that is going to take the market by storm or is needed in order for your company to operate- what do you think the chances are that you app will even be found?

If you build a specialty app that is available to download from your site consumers first need to find your site to download it.

After you know and understand mobile apps and which ones that are dominating mobile and by first having in place the tools to provide good organic search rankings and social media initiatives you should conclude that by being involved through having a fully integrated mobile solution for your website is probably your best plan of attack and should be your first priority.

In this piece from Marketing Charts "More Data Shows That, In Mobile, Apps Rule the Web", Pay particular attention to the chart highlighting the top 10 Smartphone applications and you realize that your money, in most cases, is better spent in utilizing the most popular existing mobile applications through your own mobile website instead of building your own mobile app. (mobi Thinking.com)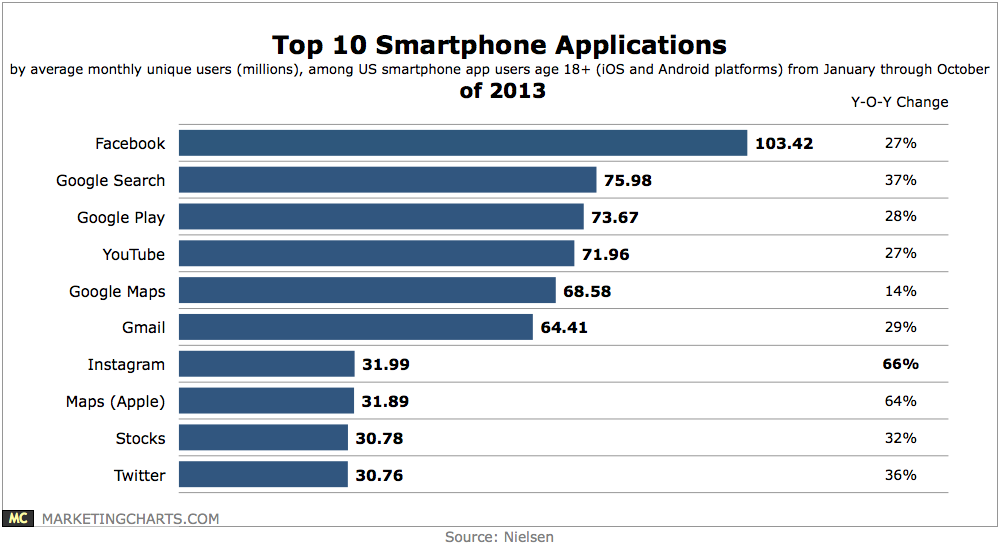 Further justification comes from this statement from Marketing Charts that states -"There's one important note: while apps are dominant in terms of overall consumption, there's reason to believe that individual properties have greater reach among mobile owners through their mobile websites than via their apps."

"Through their mobile website" In my opinion is confusing and should read "Through their mobile  soloution." Because today's platform technology makes it possible to integrate mobile as an extension of a website platform negating the need for a separate website for mobile that enables any or all of the content on your website accessible from mobile.

A properly integrated mobile solution is a make-or-break opportunity for brands. An integrated mobile solution makes it easier for consumers to access content on smaller screen to find and tap relevant information.  (Graph courtesy of Cars.com insights)

But as pointed out in this graph 67% of respondents surveyed stated that mobile-optimized websites are more user-friendly but are not meeting demands in terms of accessible content- a problem to which as I have stated above are viable solutions.
You need a mobile solution today if you want to compete effectively in the online marketplace especially when it comes to local marketing according to a study from BIA Kelsey where mobile local search volume is on pace to intersect desktop local searches in 2015, and exceed desktop searches in 2016. (This projection includes both web and in-app searches.")

It is very important that you get it right so look at mobile solutions that are part of a fully integrated marketing platform or can be fully integrated into your current website platform and are compatible with all IOS and Android devices. (Seamlessly Integrated Mobile)

By being properly informed the right decisions can be made that can avoid costly mistakes and provide the information on which to make sound investment decisions. And there are technological solutions to addressing the issues and concerns addressed here that will best serve your needs to provide the best ROI possible. So work with someone who is just not looking for a sale, will give you the broad picture and who will work with you to find the best overall solutions for you. 

William Cosgrove
Bill Cosgrove Straight Talk