Autospeak-Straight Talk contains articles covering digital and social media marketing social communities and events marketing
Autospeak-Straight Talk
(Login)
You Need 'Beliebers' For Your Brand
Tags:
(Posted on Nov 9, 2013 at 05:22AM by William Cosgrove)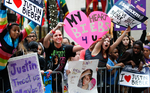 According to Urban Dictionary, a "Belieber" is one who is an obsessive fan of Justin Bieber; a person who loves Justin Bieber and believes in everything he can do. This mashup of believer and Bieber may be an extreme example of fandom, but it is a powerful one. It's easy to dismiss Beliebers as just teenage lunatics, but these "lunatics" are exactly what's missing from many of today's brands -- Passionate Advocates.

Justin Bieber has a fan base that is widely known as passionate and captivated, and more than willing to advocate on his behalf. Brands have traditionally used top-down marketing strategies such as advertising, PR, events/sponsorships or direct marketing, but advocacy is a relatively new venture for many organizations. An advocacy-focused marketing strategy helps brands to build the equivalent of Justin Bieber's avid "Belieber" fan base. With over 46 million Twitter followers who retweet, comment and repost his content, we have from a marketing perspective a perfect example of brand advocacy at work. He engages with his fans regularly to develop a relationship with them, fostering advocates who readily market on his behalf. They attend his events, market his products to their network and start their own communities to engage with likeminded fans. Most marketers would agree that brand advocacy programs are a good idea but the ultimate challenge is finding customers that are willing to display their passion for your brand. Social media has definitely made it easier for brand advocates to share their opinions. But what truly drives people to express their passion and trust for a brand and how can marketers encourage them to remain advocates?

Here are some simple steps to create a customer advocacy program that will generate the genuine passion your brand needs while helping your brand to achieve company growth and awareness:
Seek Out The Right Brand Advocates
Identify your brand advocates and learn more about who they are, what they like about your brand and where they are talking about it. Users who are interacting with brand content and "liking" your social media pages are a first step. Social analytics can help you identify what topics or features are driving positive conversations about your brand and who is involved in those discussions. Identifying your advocates isn't a one-time deal either. You should be identifying your advocates continuously. The more recruits you have, the more impact it can have on your sales and marketing.
Build Direct Relationships
Understand what motivates your advocates to interact with the brand and create a steady cadence of communication that is targeted uniquely to them. This most certainly does not involve a paid relationship. Instead, focus on providing access to unique information about your brand such as advanced announcements of events or products, a reward or recognition program or special offers. When your advocates engage with you, respond and do so in a timely manner. When a direct relationship is cultivated, your advocates will be more willing to help market the brand.
Consistently Engage
Devise a content strategy and editorial calendar to ensure that your brand keeps advocates consistently engaged for easy social sharing. Content can range from infographics to GIFs to behind-the-scenes footage of the company to drive excitement and build interest. The goal is to encourage and enable advocacy everywhere so it's easy for advocates to spread the word with everyone. Think about increasing advocacy levels in three ways:
Volume: Map out customer touch points and ensure that they are given adequate attention. Your social media manager should do more than check the company Facebook page once a day. Leverage your audience to advocate on your behalf by interacting frequently and with variety. Share reviews, distribute news and ask questions.
        
Customization: Customize messages and generate authentic conversations to create deep fan engagement and advocacy.
Reach: Use various channels, including employee communications, social content, mobile apps and websites to influence your key advocates with trustworthy content at the right time.
Measure Positive Effects of Advocacy
Measure ROI with real-time dashboards and analytics. A simple positive/neutral/negative tracking system does little to help understand the degree of recommendation around a brand. Instead, brands should pursue a more advanced tracking system that looks at the ability to increase advocacy over time and identifies key drivers. Know when customers promote your product, how many people they reach, who they convert into new customers and how much resulting revenue they generate for your brand. 
Attracting and driving passion for brands takes time and genuine commitment. The challenge for marketers is to find and build relationships with key influencers, sustaining those relationships through engagement, and then measuring the results to show effectiveness. When engaging their audience, brands need to focus on staying visible across multiple channels, being relevant by providing content that matters and responding to advocates with authenticity. These are the key ingredients for a successful customer advocacy program and, once mastered, passion will be ignited and your regular brand believers will be transformed into "Beliebers."
By Russ Fradin is the co-founder of Dynamic Signal and a digital media industry veteran with more than 15 years' experience in the online marketing world.

Leaders in integrated digital marketing technology