Autospeak-Straight Talk contains articles covering digital and social media marketing social communities and events marketing
Autospeak-Straight Talk
(Login)




Definitions of native advertising still vary
Native advertising has seen a growing chorus of interest among publishers and ad buyers. Integrating sponsored content into digital channels has opened new doors for marketers to reach distracted consumers and provided publishers with new opportunities to generate ad revenue.
According to a June 2013 survey from the Online Publishers Association (OPA) and Radar Research, while many publishers may still be experimenting with how and what native advertising they will offer, most have already rolled out some native ad opportunities. Nearly three-quarters of polled US publishers said that they already offered native advertising on their site, and another 17% said they were considering offering it this year. Only 10% had no native ad plans of any kind.


But even as more publishers roll out native advertising, there is still variation in how they think about and begin to define the new ad products. Nearly all publishers attested to the most essential definition of native advertising as "integration into the design of the publisher's site and [an ad that] lives on the same domain." And nearly nine out of 10 also said that native advertising was "content produced in conjunction with the advertiser, or by the advertiser, that runs within the editorial stream." A slightly lesser 79% believed native advertising must be clearly delineated and labeled as such.
These may be crystallizing as the central tenets of native advertising.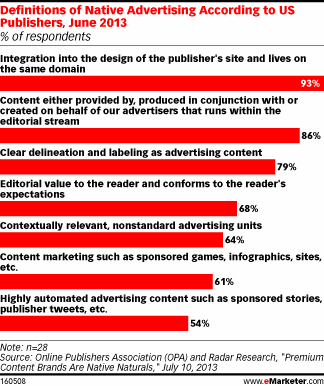 To evaluate their native ad campaigns, publishers said engagement was the leading metric marketers used, cited by 57% of respondents. That was followed by traffic, at 43%. Social sharing came in at one-third of respondents, indicating that while advertisers may want to get consumers sharing their native ad posts, this is not their No. 1 priority.
Market research company BIA/Kelsey estimated in April that this year, US native ad spending on social sites will reach $2.36 billion, or 38.9% of total US paid social ad expenditures. By 2017, social native ad spend will grow to $4.57 billion, and its share of social spending will inch up a few percentage points to 41.7%. But with native advertising reaching into so many digital channels besides social, this is likely far below the total outlays that will go toward native ads in all their different iterations.

eMarketer

DealerNet Services