Autospeak-Straight Talk contains articles covering digital and social media marketing social communities and events marketing
Autospeak-Straight Talk
(Login)
Things Are Changing - But Are Things Really Changing With Them?
Tags:
(Posted on Jul 13, 2013 at 05:44AM by William Cosgrove)
"And Round And Round We Go"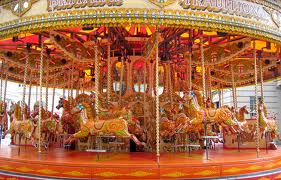 There seems to be a great deal of commonality and consensus in the disconnect between the Sales Department and The BDC Department just to name two and problems within both. It almost seems to be the rule and not the exception that management has not fully embraced the impact of recent changes among them being Digital Marketing is having on the marketplace today.
The BDC department is too often viewed as a bunch of internet geeks that have no conception of the sales process and should not be talking to customers. The BDC often looks at the Sales Department as a bunch of knuckle dragging egotistical Neanderthals that inhibits them from fulfilling their mandate.
This among other organizational problems plaguing Dealers today is an age old problem but one that has been exacerbated by the rapid and momentous changes that are taking the Automotive Industry by storm.
I know that for Digital Marketing this will change if not for any reason than the younger generation who grew up in this technological world and who have been entering the Automotive Marketplace have already embrace it before they even enter the job market. But what is to be done now?
How long are dealers willing to wait before they take charge and make all the changes necessary to correct the problems that are plaguing them? For instance, when it takes days or a week or longer of calls and conversations just get the manager to give approval to the BDC or the BDC to make the call just to give approval to have their data polled-you know you have a problem.
We all know that this is just one of many issues facing many dealers. So when are they going to realize that they need to have a qualified professional from the outside looking in to pinpoint the problems and provide the solutions necessary to correct them.
Once they make that realization and retain someone and after discussing and agreeing on what is broken and how it may be resolved, you need to hope that something is actually done to implement those solutions unless you are directly involved in the implementation of those changes.
You may have the plan that could put them on the path to sustained and continued growth but if the infrastructure is not in place or put in place to utilize them- all has been for naught.
How have you made an impact on your clients in resolving these types of issues and have seen them come to fruition?

Posted by Bill Cosgrove
DealerNet Services