Autospeak-Straight Talk contains articles covering digital and social media marketing social communities and events marketing
Autospeak-Straight Talk
(Login)
Stiletto Network Inside the Women's Power Circles That Are Changing the Face of Business
Tags:
(Posted on Jul 12, 2013 at 05:00AM by William Cosgrove)
Stiletto Networks are about becoming the biggest, boldest, bravest version of yourself that you can be."
Claudia Batten, serial entrepreneur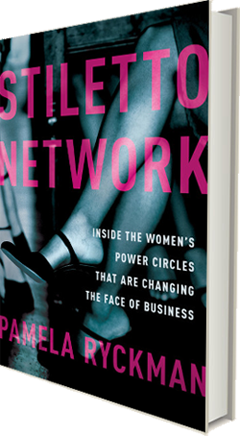 Watch this video - Stiletto Network
Stiletto Network is a story of female friendship—disguised as a business story, a tale of women banding together to improve lives and companies and communities, to realize their dreams and change the world.
Women like Kim Moses, who created the most downloaded app in the history of Warner Bros. Or Jennifer Nason, who oversaw the largest high-yield bond offering of 2010. Or Mallun Yen, who joined the founding team of RPX, one of the fastest-growing start-ups in history, and steered it toward a $1 billion IPO. Or Joan Amble and Marilyn Alexander, who were fast-tracked to corporate board seats. Or Shauna Mei, a go-getter in her 20s who launched a company and got John Mack, the former Chairman and CEO of Morgan Stanley, on her board. Or Bonnie McElveen-Hunter and Melanie Sabelhaus, who created the most successful fundraising pilot in the history of The Red Cross.
What do they have in common? They're all members of Stiletto Networks.
During the past few years, women's groups have been coalescing in every major American city. Formidable ladies across industries are convening at unprecedented rates; they're forming dinner groups and networking circles, and collaborating not only to achieve clout and success, but also to create a more just, equal society.
Stiletto Network is about those groups: the "Babes in Boyland," "Power Bitches," and "S.L.U.T.S.: Successful Ladies Under Tremendous Stress." It's about what happens when bright, caring women—from captains of industry to aspiring Millennials to moms launching businesses in their basements—come together to celebrate and unwind, debate and compare notes. But it's also about what happens when they leave the table, when the talking stops and the action starts.
With engrossing narrative marked by compassion and wit, Stiletto Network is the first book to shed light on this groundbreaking movement.