Autospeak-Straight Talk contains articles covering digital and social media marketing social communities and events marketing
More than Half of Social Media Ads Spending will go to Native In-stream Ads
Tags:
(Posted on Jan 14, 2014 at 02:53AM by William Cosgrove)
One of the most effective ads in social media right now are native-social ads, ads that are incorporated within the social stream, like the ads that appear in Facebook's News Feed.
In fact, native ads are gettings lots of shares and clicks and, in next to no time at all, it is expected that more than fifty percent of the social media ad spending will focus on native ads. A study conducted by BI Intelligence shows that among all social media sites, the ones that will find natural ads most valuable are the ones that focus on photo sharing, like Pinterest, Snapchat and Instagram.
These three photo-sharing social media sites are indeed benefiting from their native ad strategies. Snapchat's Stories, or snaps that last for a day, is not yet an advertising unit, but brands will soon be using it as a native marketing tool. Instagram already has a native ad unit, while Pinterest has Promoted Pins, or paid placements from selected retailers and businesses that would appear within Pinterest's category feeds and search results.
Native in-stream ads are the most successful type of ads in social media sites,, and will continue to find success according to a study. (Image: thalo-mag (CC) via Flickr)
The reason why photo-sharing social media sites benefit a lot from native ads is because photos are the most commonly shared form of media in the Internet.
How the Social Media report was conducted
The BI Intelligence report was conducted through interviews with experts in native advertising, comprising of specialists in social media analytics, social media networking investors, and chief advertising buyers.
It investigated the major advertisers and brands, making comparisons regarding their use of native ads and identifying their level of commitment with regards to using these types of ads. In addition, it also gives details as to why research firms were generally wrong in their estimation of the impact of native social ads.
The best native advertising formats were explored, like those of Facebook, and the researchers tried to determine how effectual native ads are on each social networking site. Native ads are so effective that, according to Jan Rezab, chief executive of Socialbakers, a social media analytics firm, "in the future, all advertising on social media will be native in-stream ads. The right rail and banners will disappear altogether."
Why are Native Ads Effective?
There are several reasons why experts are so optimistic about native ads. In fact, according to Jed Williams, author of a forecast by BIA/Kelsey, forty percent of the 11 billion dollars on social ad spending by 2017 will go to native social ads.
Also, as previously mentioned, social media sites that are primarily focused on sharing photos benefit the most because photos are the most shared media online. In fact, a study shows that 43 percent of Internet users around the world have shared a photo in the past month. Online photo sharing enjoyed a boost with the advent of smart phones, as these devices, along with photo-sharing apps, have practically made sharing pictures online just a few clicks away.
One reason for the effectiveness of native in-streams is the way they look, feel and operate, and how these three perform so smoothly across desktop computers and mobile devices. This is exactly what brands are looking for because they want to deliver ads that work across all kinds of devices.
Promoted Tweets, a twitter native ad which has was already operating since 2010, is evidence that native social ads really work. As proof, Twitter is showing, more than any other social networking site that digital and television ad spending can work in close association. LinkedIn is now creating huge investments to come up with its own native ads strategy and Pinterest is also just beginning to use native in-stream ads with Promoted Pins.

By Aaron Elliott
Founder, Socialbarrel.com
Consumers Dazed and Confused by Native Ads
Tags:
(Posted on Jan 11, 2014 at 01:48AM by William Cosgrove)
As a marketer, you carefully craft pieces of content for the web. You research your target audience, include what's trending, topical keywords and a distribution plan across your social networks and web properties. You've even found the optimal time of day to post for each.
But when you click "Publish"…nothing happens.

Native advertising, otherwise known as paid media in the format of news content nestled among other similar stories, has risen as one of the more effective ways to reach consumers in 2014. Though not new, certain questions arise: are consumers really clicking on native advertising vs. traditional advertisements or organic posts on the web? Do they actually trust these ads and are they worth your money? The answer may surprise you.
According to a study done by David Franklyn, law professor at the University of San Francisco, when it comes to what people recognize about labels, people often just skip over them. Respondents to his study "didn't remember seeing 'sponsored by' posts when asked to read a web page and the majority (over 50 percent) also didn't know what the word 'sponsored' actually meant."
These results augment more preliminary findings from the study which stated that sometimes people don't understand what the word "ad" means, and even with disclosure, as much as 35 percent of people when asked to identify the type of content they were viewing, said that it was not an ad.
What this study sheds light on is that we do not have a homogenous group of consumers in terms of knowledge and expectations. People struggle with differentiating paid from unpaid ads. The bottom line? Context matters more than labels.
Furthermore, in terms of wanting to know whether a piece of content was paid media or not, out of the 10,000 surveyed, only 40 percent of consumers wanted more clear and conspicuous differentiation between paid and unpaid content. Sixty percent stated that they don't care. Said Franklyn, "a growing number of consumers don't care, and enjoy it. They enjoy the hyper-stimulation that marketers do the work to do – they just want to sift through and enjoy it like People Magazine."
Other than consumers just plain not caring, why do native ads work so well? According to Jamie Cole, creative director at Red Barn Media Group, in research covering audience reception to native advertising, the material that appeared the least commercial was rated as most credible by readers, and attitude toward the brand and purchase intent increased towards content that mirrored and appeared as news content.
But don't confuse the word "mirror" with "trick." According to Dan Greenberg, the CEO of Sharethrough, "it's not about tricking people, it's about delivering content that has value. We believe in the power of meaningful content." (Besides, tricking people couldland you in hot water.)
Preliminary data from a study his company conducted showed that the language used to disclose native ads has an impact on whether or not a consumer perceives a story as being paid for by a brand. "Disclosure language impacts perception. The words 'sponsored' vs. 'featured' vs. 'promoted' vs. 'advertisement' vs. 'placed by' vs. 'in partnership' vs. 'suggested' vs. 'around the web' all have different perceptions. Context has a major impact on perception."
Do you trust native advertising or other paid media content? Why or why not?

BY STACEY MILLER

 
Want to build trust and brand with native ads? Register for our free on-demand webinar with Steve Rubel now!
Information adapted from the FTC's Workshop on Native Advertising.
Image: Pardot (Creative Commons)




Definitions of native advertising still vary
Native advertising has seen a growing chorus of interest among publishers and ad buyers. Integrating sponsored content into digital channels has opened new doors for marketers to reach distracted consumers and provided publishers with new opportunities to generate ad revenue.
According to a June 2013 survey from the Online Publishers Association (OPA) and Radar Research, while many publishers may still be experimenting with how and what native advertising they will offer, most have already rolled out some native ad opportunities. Nearly three-quarters of polled US publishers said that they already offered native advertising on their site, and another 17% said they were considering offering it this year. Only 10% had no native ad plans of any kind.


But even as more publishers roll out native advertising, there is still variation in how they think about and begin to define the new ad products. Nearly all publishers attested to the most essential definition of native advertising as "integration into the design of the publisher's site and [an ad that] lives on the same domain." And nearly nine out of 10 also said that native advertising was "content produced in conjunction with the advertiser, or by the advertiser, that runs within the editorial stream." A slightly lesser 79% believed native advertising must be clearly delineated and labeled as such.
These may be crystallizing as the central tenets of native advertising.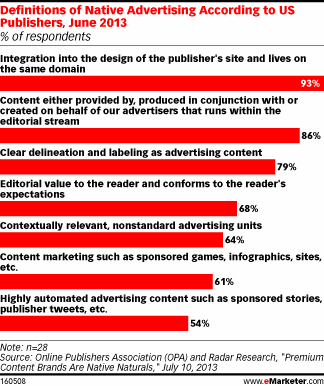 To evaluate their native ad campaigns, publishers said engagement was the leading metric marketers used, cited by 57% of respondents. That was followed by traffic, at 43%. Social sharing came in at one-third of respondents, indicating that while advertisers may want to get consumers sharing their native ad posts, this is not their No. 1 priority.
Market research company BIA/Kelsey estimated in April that this year, US native ad spending on social sites will reach $2.36 billion, or 38.9% of total US paid social ad expenditures. By 2017, social native ad spend will grow to $4.57 billion, and its share of social spending will inch up a few percentage points to 41.7%. But with native advertising reaching into so many digital channels besides social, this is likely far below the total outlays that will go toward native ads in all their different iterations.

eMarketer

DealerNet Services