Autospeak-Straight Talk contains articles covering digital and social media marketing social communities and events marketing
Marketing Practices- What to Believe?
Tags:
(Posted on Mar 7, 2015 at 06:10AM by William Cosgrove)
El Gran Truco


I don't know about you but time is one of life's cruel tricks. When you are young you can't wait to grow up and have your independence and experience the world and time seems to stand still. Then before you know it you're grown up and time starts flying and you wish you could slow it down-And Can't.
If you enjoy what you are doing and take every day that comes as a new adventure and opportunity to learn something and to make a difference in some way (in your life) you know what I am talking about.
Because then you understand that Knowledge is everything-The more you seek to learn and experience the better your life will be.
On the other hand if you are not happy with your life or your job then you are probably stuck in time and it seems to take forever to pass. If you are of this sort-GET UP?-WAKE UP? And do something about it-Please-You don't know what you are missing and are just wasting the precious little time we are all given.
Reader Beware (Sometimes We Need a Reminder)
First of all, I would like to point out that I take exception with content that I read during the course of studying and doing research that does not reflect all the information that it could or should include that might lead the average reader with less experience in Marketing Technology to form the wrong opinion or conclusion.
Reader beware as in buyer beware is a term we all know. In the context of this article it is the collection of information necessary to be able to make a well informed decision and shame on you if you are not obtaining this information from a variety of sources and not taking one company's or persons views, opinions or information as the only source on which to base your decisions.
Not that you don't already know this but in today's fast paced and sometimes deceptive media environment time once again may be weighing you down and it is sometimes easy to overlook, make a quick decision or take something as fact especially if that information is coming from a source that you trust.
Often there is limited time and/or resources to sufficiently research all the technology available and discussed and what it really can and cannot accomplish. This type of Content provides a source of information to inform and educate us on current trends and developments on products and strategies. Unfortunately, this content at times might not provide a well informed or objective view.
With today's rapid advancement of technology the pressures to monetize and the desire to stay ahead of the competition, technology is often brought to market that has not been sufficiently developed or refine enough to do exactly what it is intended or proclaimed to do.
As an example I will refer you to my last article, A Bad Customer Experience - The Cost? - One Cent , where I bring up the following point concerning Marketing automation software.
Marketing automation technology today is evolving but still finds it difficult, especially in B2C, to be able to recognize that people are complex humans that have many different reasons for any particular action they perform.
Every customer's experience is different and to assume or generalize what a customer's intentions are can be an ill-advised and hazardous undertaking.
Who and What do You Believe?
It wasn't too long ago, just last year in fact that the marketing world was advocating that the days of pushing your message on consumers to gain their attention was quickly fading and inbound marketing, pulling consumers through engaging them with quality content was taking prominence and statistics were showing the benefits.
Last year Brian Conlin shared this in an article "It's no secret that content marketing has become ubiquitous. After all, 93 percent of B2B marketers use it, a bump of 2 percentage points from 2012. However, just how effective content marketing is might surprise you. Despite costing 62 percent less than traditional marketing, content marketing generates about three times as many leads." 59 Killer Content Marketing Stats: 2014 Edition—via B2C.
If fact if you think about it and tell me if I am wrong, Triggered email, Retargeting and Geotracking are all push marketing disguised behind different names. And many people are pushing back.
Consumers are inundated with all the ways that exist today to get in front of them and others are developing technology to counter this with technology like ad blockers that according to a very recent article at Chief Marketer by Zach Schapira, "In the long-term if pervasive ad blocking shrinks the supply of sellable inventory, publishers may try to make up for the lost revenue by raising CPMs for advertisers."
With all the technology that is being thrown at us today it is imperative that you have the means through trusted employees, friends or consultant who are on top of the subject you are researching and who can advise you on what you are researching can do and can't do and what if any drawbacks there may be and if it would even benefit you.
Another example of how confusing things can really get in this recent article entitled "Is Link-Building Dead?" by Marie Haynes Founder of HIS Web Marketing and posted at Search Engine Watch exemplifies how what one person says can be interpreted in so many different ways.
Think for Yourself and what is Best for You
We are all conditioned from the time we are born by society. In one sense, is necessary to have a set of rules on how to behave to be able to maintain a sense of order and basically we have little choice but to conform to what is accepted behavior. This is not necessarily a bad thing but it can be confining and controlling if we accept everything blindly and never question anything.
Marketing companies create ads and content that condition us into taking on too much debt, instilling a must have or keep up with the Jones' mentality (conspicuous consumption) or the need for all the latest trending products and before we know it, we are living lives created for us by the powers that be many times without our conscious participation.
Keeping up with the pace of change in Digital (Integrated) Marketing is surely one ours and industry's biggest challenges. You no sooner have implemented one technology another comes along, sometimes from the same company, that claims to be bigger and better than the one you just implemented which may be true or a lot of marketing hype. But do you really need it? Here is where you need to make a well informed and research decision.
So don't follow the crowd follow find what will work best for you and know the facts and you will be a lot better off for it.

William Cosgrove
3 Steps to Launching a Successful Contest Campaign
Tags:
(Posted on Aug 30, 2014 at 03:46AM by William Cosgrove)
Contests are an incredibly effective entry point to building loyal relationships with consumers. Whether they're hoping to win concert tickets or submitting their favorite travel photos, consumers are more inclined to connect with your brand if they're rewarded for doing so.

To entice your customers to connect with your company, we'll delve into:
How to target the right customers and pinpoint where those customers spend their time.

How to take advantage of each platform (and other tools that can help you make the most of them).

How to craft your contest — and your prize — to attract an audience.
Crate & Barrel, in an effort to engage consumers online and drive gift registry creation, hosted an Ultimate Wedding Contest. It asked newly engaged couples to upload photos and share their stories for a chance to win a $100,000 dream wedding. As a result, they gained $35 million in gift registries, 16,000 entries, 500,000 votes, and more than 3 million page views.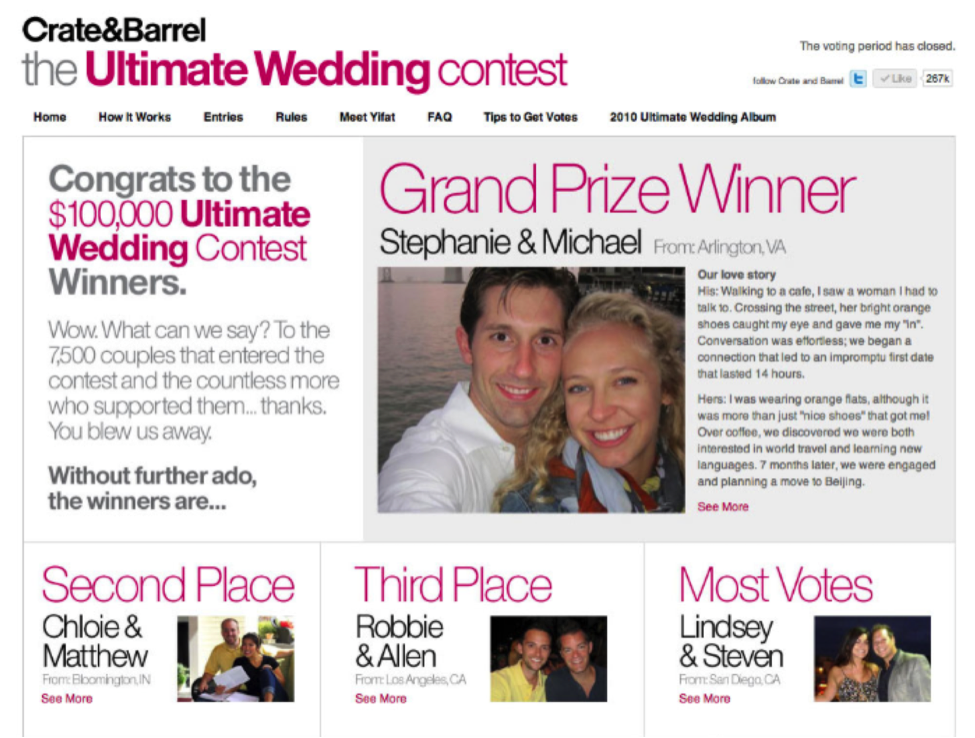 However, you don't have to be a big brand to reap the benefits of social promotions. Small businesses, nonprofits, and established companies can use contests to spark more meaningful conversations with their audience. Here's how to make contests work for your brand:

1. Determine what success looks like.

Creating a promotion is easy, but as with any marketing initiative, you should:
Define your goals. What do you want to get out of your contest? Do you want to drive leads, "likes," or sales, boost engagement, or reward your existing audience?
Understand your audience. Who are you trying to reach? What motivates or interests them? Where do they spend their time online?
2. Choose the right social media channel.

Once you define your goals and understand where your audience spends its time, you can determine which social media channels are right for your campaign. Here are four sites to consider:

Facebook: Facebook is making it harder than ever for brands to reach and connect with fans organically — the social media platform recently changed business pages' organic reach, ostensibly to even the playing field for small businesses. This means it may become more expensive for some brands to land on users' News Feeds. With 1.23 billion monthly active users, however, it's still a channel worthy of your consideration.

The businesses that find the most success on Facebook are the ones that tie their contests into their customers' personal interests and habits. But remember that you want users to engage with your brand's offering — not just attract lots of "likes." This concept will truly apply to marketers in the next three months, as Facebook recently announced its decision to kill business' ability to incentivize Facebook users with a contest prize in return for a "like."  Although the news came to some marketers' displeasure, this change will rid brands of empty Facebook fan bases — people who want a contest prize, but have no real interest in your regular services or products.

Take a look at this contest from Eggo, which asked participants for their best recipes using Eggo waffles. The contest promoted the brand's waffles through tasty-looking photos, asked users to share voting links with friends, and recommended that voters try making the recipes prior to voting — a subtle call to action to attract more buyers.
Instagram: With more than 200 million users and 60 million photos uploaded daily, Instagram could be the right channel for you if you're looking to garner unique, user-generated content. Your Instagram campaign can be as simple as asking your audience to answer a question or upload a photo with a unique hashtag.  

Instagram is particularly appealing for contests because all it asks of participants is that they click on images, which fuels brand awareness. To promote its "Untamed Americas" series, National Geographic Channel hosted an Instagram contest that asked fellow Instagrammers and explorers to submit photos that fit with the show's theme. The prizes — cameras, a Glif, Nat Geo swag, and "Untamed Americas" DVDs — attracted exactly the demographic that the company wanted to engage with on Instagram.
Twitter: Unlike other social channels, you can have your Twitter promo up and running in minutes; with more than 575 million users, there's potential for large-scale success. Be sure to include a unique #hashtag and @reply to effectively monitor conversations, track entries, and communicate with your audience.

Gear your efforts toward Twitter on the weekends (when engagement is 17 percent higher), make sure to use one or two hashtags (which will double your engagement), and ask for retweets (which can multiply your number of retweets up to 23 times). Over the Rainbow did a great job of seeking casual, funny entries for its "Mom Jeans" Twitter contest, asking followers to tweet the worst examples of Mom jeans — with the absolute worst example winning a makeover.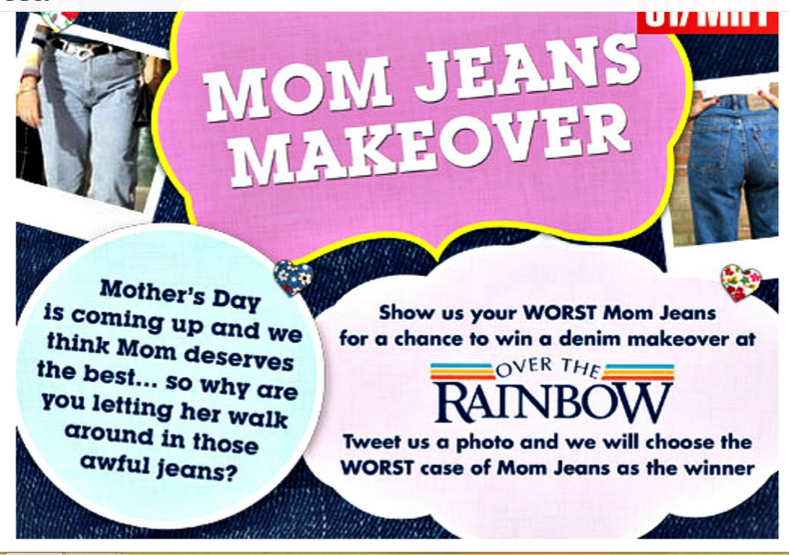 Pinterest: Companies like Anthropologie frequently host #PinToWin contests, asking consumers to upload images and create pinboards with their favorite items from the catalog. Participants need to disclose that their boards are entries in a promotion to comply with FTC guidelines.If you'd prefer to drive traffic to your domain, a contest microsite or an iFrame promotion on your website may be your best bet.

Sony did a great job of promoting its version of a "Pin It to Win It" campaign, placing a variety of its products on its "Pin It to Give It" board. Each time an item was repinned, the brand donated money to the Michael Phelps Foundation. This not only enhanced Sony's product awareness but underscored its desire to give back, making it stand out in a sea of similarly positioned contests.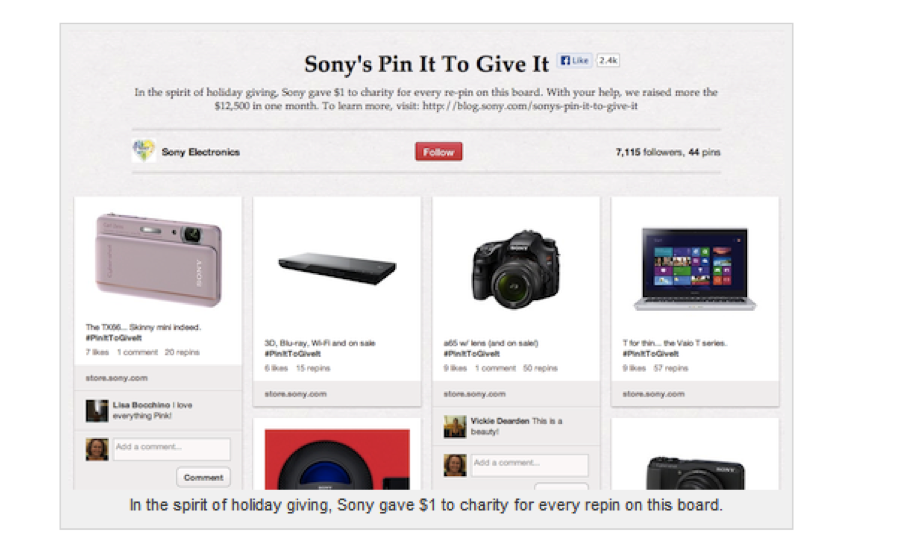 3. Use simple third-party tools.

After you choose your channel, you can then create, launch, and manage your social campaign using the following tools:

SaaS social promotions platform: The right platform will make it easy to build and share your promotion across multiple social channels as well as ensure fairness, identify brand advocates, and measure the effectiveness of your overall campaign.

Google Analytics: A free tool to help you measure the success of your promotion, Google Analytics uses specific UTM codes to examine where your traffic is coming from and track your conversions.

A unique hashtag: This encourages conversation and brand recognition and tracks engagement. Before launching your promotion, do a search on Twitter or hashtags.org to make sure your campaign hashtag isn't already in use.

Google AdWords, Facebook Ads, or Promoted Tweets: Once you launch, a targeted ad campaign can help raise awareness and drive traffic to your online promotion.

MailChimp: Add new leads who join through your promotion to your database to stay in touch after your contest has ended and nurture these relationships in the future.

Buffer and HootSuite: Social media dashboards allow you to share posts on multiple channels, track mentions, and actively participate in the conversation around your promotion.

By following these three steps, you can easily create and launch a fully branded social campaign that helps grow your audience, boost engagement, and provide you with the opportunity to turn a "like" into a long-lasting relationship. How have you used contests to engage customers?

Reposted from SteamFeed
Hispanics Ahead Of The Digital Curve
Tags:
(Posted on Aug 28, 2014 at 04:38AM by William Cosgrove)
According to an analysis of strategies of leading brands and forward-thinking marketers by Lisa Gevelber, Vice President of Americas Marketing, U.S. Hispanic demographic trends indicate a 163% increase in population between 2010 and 2050, making up 30% of the population by July 1, 2050, and one trillion dollars in buying power in 2010, rising to $1.5 trillion next year (an increase of 50% in just five years).

Marla Skiko, senior vice president and director of digital innovation at SMG Multicultural, says "… marketers may think they trail… general market in adoption of new tech… (though) they are far ahead…  should be among the first prospects for marketers… to grow their consumer base…"

A survey of a panel of senior-level marketers, says the report, saw 11–25% of their company's growth coming from this demographic in the next three to five years, but most brands didn't have a marketing strategy for this audience.

The analysis found that, in looking at the strategies of leading brands and forward-thinking marketers, "U.S. Hispanics are ahead of the curve when it comes to digital. They lead in adoption of new devices. They are power users of mobile and over-index in video consumption."

Selections of the data supporting these observations and conclusions are included in the report…

Fabian Castro, senior vice president, multicultural marketing for Universal Pictures, notes that they promote "close to" to 80% of its releases annually to the U.S. Hispanic audience. The average Hispanic spends more than eight hours watching online video each month, over 90 minutes longer than the U.S. average, according to Nielsen.

According to Think With Google, YouTube views of top U.S. Hispanic channels are up 1.25x year over year. In the two years since the launch of the bilingual multi-channel network MiTu, the network has grown an audience of more than 36 million subscribers, one-third the number of subscribers to HBO, a forty year old network. Brands are tapping into this growth through endorsements and sponsorships.

A lot of Hispanic video watching happens on mobile, says the report, as smartphones are becoming the "first screen." Nielsen reports that 10 million Hispanics watch mobile video for an average of more than six hours per month. Among smartphone owners, Hispanics are 17% more likely than non-Hispanics to access the web more through their phone than through a computer, and more likely to upgrade or replace their mobile headsets and buy tablets. According to a Google Consumer Survey, Hispanics are 1.5x more likely to buy mobile apps and digital media than non-Hispanics.

Too often, marketers think they're reaching U.S. Hispanics by simply translating ads and websites into Spanish, suggests the report, but there is a big opportunity to reach these consumers in both languages. A recent Google Consumer Survey showed that the majority of U.S. Hispanic mobile users typically search in English or a mix of English and Spanish. At the same time, the number of Google searches that include common Spanish-language question words nearly doubled over the past three years.

Language isn't enough, though, notes the analysis. To speak to this audience one needs to be culturally relevant as well. As Castro puts it, "Culture is the new language."  The U.S. Hispanic audience will only gain cultural and economic prominence in the coming years. This isn't just sheer numbers; it's technology, concludes the analysis and report.

Reposted from MediaPost
For additional information from Think with Google, please visit here.

more on Marketing to Hispanics
Image courtesy of Univision
4 ways to avoid the risk of responsive design
Tags:
(Posted on Aug 25, 2014 at 05:59AM by William Cosgrove)
By Ari Weil
While responsive design can be a great tool for retailers and ecommerce brands looking to reach mobile users, more marketers are finding out the hard way that it can actually hurt Web site performance and sales.

The reason: Cramming all the content from a full Web site into a small screen can slow down site speed and degrade the customer experience. That is a serious problem in a world where more consumers are powering up their mobile devices to connect with the brands that are important to them.  

Too often, responsive design backfires by causing slower rendering and page load times. So while marketers think it will lead to better mobile engagement, they are surprised when their site analytics show a decline in key metrics such as time to render, time on site and conversion rates.

According to an estimate by the Aberdeen Group, a one-second delay in page load time can reduce conversions by 7 percent. So for mobile consumers on 3G or 4G networks, heavy content and rich media can slow load time to the point where they abandon a page in frustration.

It turns out that responsive design is not the magic bullet for mobile Web sites. But with a little more planning, marketers can ensure it improves the customer experience as originally intended.

Tips for optimizing responsive design sites

A study by Nielsen showed that United States adults spend more time on the Internet using mobile devices than desktops, and 87 percent of smartphone and tablet owners use their devices for shopping.

As more consumers turn to smartphones for ecommerce, retailers must change their mindsets and start designing pages for small screens first and then tailor their sites for desktop.
Here are four tips to help retailers improve responsive design performance and enhance the mobile experience for consumers.

1. Get outside and test the real thing: One thing that catches many of our customers off guard is the experience of actually using their site like a mobile consumer.

Synthetic and real-user monitoring can be helpful for testing, but nothing compares to seeing the real thing.

Everyone involved in your Web site – from the business team to the engineers to quality assurance – should be encouraged to access your site at lunch, in the elevator and while they are traveling between cell towers.

In other words, get outside and off of your high-speed Wi-Fi connection. The insight into where the gaps occur in the user experience is invaluable to making and prioritizing the right decisions for your Web site project.

2. Put mobile first: Many solutions exist for adjusting page layouts or grids for the user's screen size, but a collapsing grid can become a conversion killer if not done correctly.

If you are still trying to scale your desktop site down for mobile devices, you are likely to damage the page layout and inadvertently alter the buyer's journey on a given page – a critical call to action may be buried below the fold, fixed-width ads may challenge the collapsed layout, and rich media and third-party content may overpower the rest of the page.

With that in mind, it is crucial to design your grid for mobile first to ensure that information is organized for small screens. Scaling up is simpler, too.

3. Incorporate dynamic serving: Dynamic serving is a critical aspect of responsive design that changes the HTML code of a site based on user device and other factors.

This creates a customized user experience because retailers can resize, compress and sequence images for each site visitor.

Dynamic service creates rules defining how content is delivered based on factors such as location, device and connection speed – meaning the online shopping experience is optimized for each individual visitor.

So while desktop and tablet users might get served rich media, mobile users experience a much leaner site that loads faster because it is not slowed down by complex content and media.

4. Prioritize your content: Sequencing your application's content allows brands to deliver important page elements such as product details first and serve rich media information at a later time, depending on the user's time on site and on-page interactions.

This helps site owners improve site speed and conversion rates on responsive design Web pages by waiting to load large site features and content until the user is ready to access them. 

Also, this just-in-time content approach ensures that visitors do not have to wait to see a page getting bogged down by elements such as social media widgets and videos.

WHILE IMPLEMENTING responsive design might result in a functional, good-looking mobile Web site, marketers have to consider more than just aesthetics.

By also focusing on user engagement, brands will ensure that responsive design actually meets the goal of improving the mobile experience.

Ari Weil is vice president of products at Yottaa, a Boston-based cloud-based acceleration platform. Reach him at aweil@yottaa.com. 

Reposted from Mobile Marketer
Digital Coupons Significant In Shopping And Purchasing
Tags:
(Posted on Aug 22, 2014 at 06:12AM by William Cosgrove)
By

 
Jack Loechner
center for media research
According to a recent Forrester study, digital coupons are keeping up with the times, and are very relevant as omnichannel retail becomes the norm. The report says that, among 500 consumers who have used a digital coupon within the past three months, 59% stated that digital coupons and coupons codes are most likely to influence their purchase decision compared with other types of digital promotions. In addition, a strong majority of consumers will redeem a digital coupon code within three days of receiving it, and nearly one-third will redeem it immediately.
Times Using A Digital Coupon, Offer, Or Online Promotion Code In The Past Three Months

Times Using ≤ 3 Mos.

% of Respondents

1 to 5

70%

6 to 10

16

11 to 20

9

21 to 49

4

50 or more

2%

Source: Forrester Consulting/RetailMeNot, August 2014 
Given these salient data points, says the report, it is clear that retailers need to master the digital coupon process and identify the right partners. According to Forrester, the study yielded five key findings: 
Consumers are using tablets and smartphones to view digital coupons as well as redeem them either online or in-store; however, the desktop and laptop computer are still the primary devices by which consumers view digital coupons and promotions
The primary means by which coupons are received continues to be email. However, native apps using location awareness technologies and coupon sites are also on the rise and being put to use by leading-edge retailers
There's a real opportunity for retailers to master the digital coupon process. Easy redemption, mobile-formatted coupons, and a balanced marketing plan will drive users to the store and online properties, which provides opportunities for conversion and increased spend by consumers 
Customers continue to believe that coupons do not dilute brand perceptions; in fact, they strengthen loyalty. This perception continues to hold true as much as it did since the last commissioned study in 2011
Customers are likely to spend more than anticipated in-store when using coupons, so it's critical for retailers to make the redemption process part of the customer-selling model
Over a three-month period, 68% of consumers today have made between one and 10 purchases online. Of those, 86% have used a digital coupon. Consumers continue to make purchases in the typical areas that one would expect. Restaurants, bath and beauty, and home and garden tend to be the most top-tier categories where consumers have made their purchases online or in-store. The next group of retailers, where purchases tend to be made more online than in-store, includes consumer electronics, books, movies, and music, as well as gifts and flowers.
Purchases Made Online In The Past Three Months

Purchases

% of Respondents

1 to 5

38%

6 to 10

30%

11 to 20

20%

21 to 49

9%

50 or more

2%

Source: Forrester Consulting/RetailMeNot, August 2014 
An overwhelming 59% of consumers stated that of the different types of promotions a retailer can employ, digital coupons still hold the most sway when it comes to influencing a consumer's purchasing decision (see Figure 2). This continues to reinforce a key finding from Forrester's 2011 Thought Leadership Paper.
Types Of Digital (Online Or Mobile) Promotions Most Likely To Influence Purchase Decisions

Promotion Influence

% of Respondents

Coupons or coupon codes

59%

Sales

28%

Daily deal vouchers

9%

Source: Forrester Consulting/RetailMeNot, August 2014 
Coupons continue to positively affect brand and loyalty. What also continues to be true from 2011 is that 68% of customers strongly believe that digital coupons have a positive impact on a retailer's brand, and 68% of consumers also stated that coupons generate loyalty. Similarly, a digital coupon increases the potential for conversion when consumers are in the cart and checkout phase of a purchase and plays a key role in combating shopping cart abandonment. 63% percent of consumers surveyed said a promotion or a coupon often closes the deal if wavering or undecided on making a purchase.
Extent Of Agreement With The Included Statements(5=Strongly Agree; 1=Strongly Disagree

 

Strongly agree

Strongly disagree

 

Don't know

 

5

4

3

2

1

MORE likely to buy a product or service at full price later from a company that offers online coupons or promotion codes

22%

28%

29%

10%

7%

5%

MORE likely to be loyal to a brand that offers online coupons or promotion codes

29%

39%

23%

3%

3%

3%

LIKELY to tell a friend about a company that uses online coupons or promotion codes

34%

34%

22%

4%

4%

2%

Source: Forrester Consulting/RetailMeNot, August 2014 
In addition to being loyal, customers are also very open to trying a new brand when receiving a coupon on a smartphone. In fact, 47% of those surveyed stated they are open to doing so. These points all add up to good news for retailers and continue to reinforce that this marketing tactic can make all the difference when it comes to generating new customers, encouraging existing customers to spend more, and driving customers to a retailer's brick-and-mortar locations.
Likelihood Of Action Upon Receiving A Digital Coupon, Offer, Or Online Promotional Code On Smartphone While Shopping In A Store 

Likelihood ToTry a new brand

% of Respondents

   Not at all likely

14%

   Probably not likely

11%

   Maybe

28%

   Somewhat likely

27%

   Very likely

20%

Likelihood To Switch brands

 

   Not at all likely

14%

   Probably not likely

14%

    Maybe

37%

   Somewhat likely

23%

   Very likely

13%

Source: Forrester Consulting/RetailMeNot, August 2014 
Digital coupons are still primarily delivered the good old fashioned way through email, and consumers are increasingly using tablets and phones to both find and redeem them. Sixty-five percent of those surveyed for this study stated that they used at least three digital coupons on their tablet, slightly outpacing the use of the desktop computer (see Figure 5).
However, retailers can't ignore the momentum of mobile adoption. The report predicts that US mobile phone and tablet commerce will top $114 billion by the end of 2014. While smartphone revenue in 2014 should total $38 billion, tablets are expected to top that, with a total of $77 billion.
30% of those redeeming a coupon on a tablet redeem it immediately, says the report, and 60% of consumers receiving a coupon via a smartphone redeem it immediately or within several hours. Receiving a deal or savings via digital coupon can be the tipping point for a consumer to "press buy" online or to walk into a store and make the purchase in real time.
For more information from RetailMeNot, please visit here.
 
Reposted From MediaPost
Photo courtesy mindgruve.com
Engage Hispanics: Marketers Are Still Not Investing Enough In Digital Media
Tags:
(Posted on Aug 18, 2014 at 05:03AM by William Cosgrove)
Every year around this time I am excited to analyze the Advertising Age Hispanic Fact Pack from a digital perspective. Every year I am optimistic that marketers will finally realize that U.S. Hispanics spend most of their time consuming digital media and allocate their marketing budgets accordingly.

And every year I am disappointed to find that marketers are not capitalizing on the Hispanic digital opportunity despite clear and compelling data.

U.S. Hispanics Spend Most of Their Time Consuming Digital Media

U.S. Hispanics can't get enough digital media. What's more, relative to Non-Hispanics, U.S. Hispanics spend less time watching TV and more time consuming digital media. According to data from Experian Marketing Services published in the 2014 Ad Age Hispanic Fact Pack, here is how U.S. Hispanics consume media on a daily basis:
Watching TV: 3.3 hours per day

Using Internet on home computer: 3.3 

Playing video games on tablet: 2.2 

Playing video games on gaming console: 2.1 

Watching videos online: 2.0 
Using Internet on tablet: 2.0 
Listening to Internet radio: 1.9 
U.S. Hispanics not only spend more time with digital media, they also have positive attitudes towards it. The same source found that relative to non-Hispanics, U.S. Hispanics are more likely to engage with brands on social media and make purchasing decisions because of social media interactions. The following findings cited in the Hispanic Fact Pack clearly illustrate this point, with Hispanics being more likely than non-Hispanics to:
Purchase products advertised via social media (10.9% versus 8.3%)

Purchase products recommended by friends via social media (18.3% versus 17.8%)

Like brands on social media sites (23.5% vs. 20.2%)

Spread the word about brands via social media (23.9% vs. 20.2%)
Only 7% of Hispanic Media Budgets Go to Digital Media

Given that U.S. Hispanics spend the majority of their time consuming digital media, you would think that marketers would invest the majority of their U.S. Hispanic media budgets on digital, but this is not the case. In fact, marketers invested only 7% of Hispanic media budgets on digital. According to the Ad Age Hispanic Fact Pack, marketers invested a total of $8.3 billion on U.S. Hispanic media in 2013, broken down as follows:
TV: $6.10 billion up 5.3% from 2012

Print: $1.15 billion up 13.5% from 2012

Digital: $580 million up 31.8% from 2012

Radio: $466 million up 8.0% from 2012
Yes, investment in U.S. Hispanic digital media grew the fastest between 2012 and 2013, but still is nowhere near commensurate with how U.S. Hispanics consume media.

Why Aren't Marketers Investing More in Hispanic Digital Media?

The gap between U.S. Hispanic media consumption and investments in U.S. Hispanic media is clear, what is not clear is why the gap exists. Several factors might explain this phenomenon.

Consumers move much faster than marketers. The 30-second TV spot dominated the marketing landscape for a long time and marketers are still trying to adjust to the new digital reality. Add to that factors that specifically impact the Hispanic market and the reasons behind the gap become clearer. 

First, marketers need a specific expertise to successfully reach U.S. Hispanics, and there are simply not enough Hispanic marketing professionals out there. In addition, the current "Total Market" conversation has led some marketers to believe that they can succeed with U.S. Hispanics through general market campaigns. Finally, when it comes to the U.S. Hispanic market, budgets have traditionally been small.

Regardless of why the gap exists, Hispanic digital remains a huge opportunity for those that are willing to invest in it and I hope to be writing about just that when I analyze next year's Ad Age Hispanic Fact Pack.
More on
marketing to Hispanics
Reposted from Mediapost
.com
Image courtesy of
unlockorlando.com
How Measurment Can Kill Your Content Marketing Strategy
Tags:
(Posted on Aug 16, 2014 at 05:07AM by William Cosgrove)
By Eric Wittlake Director of Media at Babcock & Jenkins


The measurement tail is wagging the marketing dog … and it's turning your marketing into a dog. Unfortunately, few marketers have the insight needed to illustrate the problem, and even fewer have the guts to take it on within their organizations.

Content marketing strategy begins with an understanding of audience and context — everything from analyzing your competition, to assessing economic pressures and exploring competing priorities. Based on that understanding, you identify the opportunities or challenges marketing needs to tackle.
Are you losing opportunities because of a perception problem?

Are you not in the consideration set at all because of low awareness of what makes your solution different?

Are you not being discovered when people look for a solution to the problems you solve?

Is the problem that your product or solution addresses a challenge that has simply become accepted as a part of doing business today and is no longer seen as a source of pain?
Now you should be ready to establish your strategic plan. But instead, you are going to toss everything you just did and cave to the demands of the measurement dictocrats.

Here are just a few of the changes you will make. By the time you are finished, there won't be anything left of the plan you could have created — or the difference it could have made. 

You will ignore the biggest opportunity you have. You could create a great article, white paper, and video that address the opportunity or challenge you identified and ensure they are broadly distributed, consumed, and discussed. For many marketers this is probably appropriate.

Not so fast. You need to measure that effort and definitively tie it back to revenue. Easy enough: You add a registration form.

Now you know who actually saw your content (not just how many times it was seen) and can tie future revenue back to that form completion and your marketing effort. There are just two elephant-sized problems you are overlooking: You decimated the distribution of your content and replaced your original content marketing strategy with rote lead capture.

Sure, your results look OK on paper, but you are now all but ignoring the biggest challenges or opportunities you have.

You will sacrifice the customer experience. Creating a great experience is critical, right?

Unfortunately, there is often a trade-off between measurement and experience. Usually marketers opt for the measurement and end up leaving results on the table. Here are three examples that are far too common:
Social-sharing buttons that require authorizing a new application before sharing: Sure, you get some great data, but at what cost to the visitor experience or the social distribution of your content?
Limiting RSS feeds to headlines and abstracts lets you track views of your content but increases the distance between your audience and your content. You created that content because you wanted people to see it; now you are making it more difficult.
Unnecessary thank-you pages make measurement a snap but they often become a dead end, keeping visitors out of the experience you were drawing them in to.
Every break point you add to the experience gives you a way to measure activity or collect additional data, but each additional step may compromise customer experience and your ultimate results.           

You will slowly adopt the most obnoxious marketing tactics. Strategy is not infallible, but measurement is not either.

Visits, sign-ups, sales meetings, and closed deals may be in nearly every report, but you will never see a line for the number of people who screamed, "I am sick of Acme Company!" because of an aggressive appointment-setting firm you hired.

You likely know to avoid aggressive telemarketing, but what about these common content missteps? Would your strategy lead you down these obnoxious and destructive roads, or just your measurement?
Interruptive online ads — like the not-at-all-welcoming welcome ads major publishers sell — deliver traffic from everyone who missed that tiny Close button by just two pixels. That includes practically every mobile visitor to the site. How many of them frantically hit the back button in frustration while your landing page loads?
Sensational, yet misleading, headlines increase traffic but leave your visitor feeling duped and wary of clicking again.
Expanding your retargeting program: I recently saw five retargeting ads for a single company on one page, each one bought through a different provider. Measurement, not strategy, made an agency do that.
Obnoxious marketing tactics look great in reports, but are they really great for your business?

It is time to resurrect strategy and stop sacrificing real results for the sake of misleading numbers on a piece of paper.

Reposted from the Content Marketing Institute

Cover image by Joe Kalinowski
The Science of Online B2B Marketing
Tags:
(Posted on Aug 14, 2014 at 03:10AM by William Cosgrove)
Circle S studio designed this infographic, "The Science of B2B Online Marketing"  to help you visualize the components and the overall process.
Reposted from CoxBlue.com
Marketing Has Changed-Get Over It
Tags:
(Posted on Jul 19, 2014 at 05:45AM by William Cosgrove)
Digital Marketing has shaped the way we market as a whole and the rapid advancement of technology is changing the marketing landscape and is demanding newer ways of marketing to get your message out consistently and effectively.

But in today's fast paced business environment of being ROI focused at all costs it is hard to see the long term benefit  marketing as a nurturing and information tool to gain and retain customers over the long term when today's results driven bottom line engrained  corporate culture does not support it.

In other words if you can't see past the bottom line it is hard to develop a marketing strategy that is designed solely to inform and educate consumers to bring them to you instead of pushing yourself on them.

Back in 2006 the power shift in marketing as a whole was already being talked about. Stephen F. Quinn, senior vice president for marketing at Wal-Mart Stores, stated that "Today, the customer is in charge and whoever is best at putting the customer in charge makes all the money."

And as consumers "wrest control away from brand-management control freaks," Russ Klein,  president for global marketing, strategy and innovation at Burger King advised his peers, "get over it," because "turning your brand over to the consumer is taking control — and in fact, if you do, they'll return it to you in better shape."

Still today it is hard to see that this power shift has been or is being accepted. Is it that business has yet figured out how to do it? Is it that the brand management control freaks are still in control? Or is the shortsighted profit mentality of business still the driving force?

We all need to make a profit but whatever happened to when businesses had a longer than a monthly or quarterly plan they used as a benchmark to build their business?

William Cosgrove
Marketers are drowning in content
Tags:
(Posted on Jul 9, 2014 at 03:59AM by William Cosgrove)
Author: Jessica McGreal, digital content manager, B2B marketing
B2B Marketing's 2014 Content Benchmarking Report reveals marketers are struggling to harness the power of content because of the increasing volume being produced. Jessica McGreal investigates

Content marketing is popular. Period. However, with popularity comes great power, a power the majority of marketers surveyed in B2B Marketing's 2014 Content Benchmarking Report cannot seem to measure, or harness.

Only one per cent of the B2B marketers that took part in the research said content has 'limited or no importance' in their activity. For the other 99 per cent content plays a key role in their overall marketing efforts, with 61 per cent of senior management supporting it.

Due to its great popularity, inbound marketing now takes up 40 per cent of marketers' time and 29 per cent of the department's budget.

Andrew Davies, COO and co-founder of IDIO, explains why content has become the holy grail in B2B: "As a B2B marketer myself, I search out content that solves my needs, and have very little time for interruptive messages that come from vendors. Content rules in B2B marketing because it allows me to pull what I need, when I need it; to be served not sold to."

Under pressure
As a result of its popularity, 86 per cent of marketers have been creating more content over the last 12 months. Impressively, this has been achieved without any notable increase in time and budget; growing just one per cent and three per cent respectively.

Ilona Hitel, MD and founder of The CommsCo, believes this may be down to content being repurposed: "I can see a new world where budget goes a lot further than it used to; once quality content has been created, it can be re-used multiple times. A good idea that used to be a single piece of content can now be optimised to suit a multitude of channels and audiences, meaning marketers can effectively create more content."

Yet, Brendan Farnell, vice president of strategic accounts at Regalix, believes there might be a more worrying reason behind these stats: "Marketers are still living in a world where feeding search engines with low quality and high quantity content is considered an SEO strategy. But search engines are getting smarter and so must marketers. Search results from 'content farms' are now being pushed off from page one and Google is giving more value to original, educational content."

This paints a bleak picture of marketing teams under pressure to create an abundance of content to reach targets, rather than business goals.

It is unsurprising then that 84 per cent of marketers agreed 'standing out from the crowd' was a main challenge. To overcome this issue 42 per cent said their teams needed to produce 'more relevant/commercially useful content', 19 per cent said 'using the right platform for the audience' would overcome the problem and 13 per cent felt creating 'original', 'tailored' content would help. 

This may mean producing fewer pieces of content, focusing instead on larger projects tailored to prospects' needs and pain points. Marketers need to follow Hitel's advice and repurpose content. For example a research report can be recycled to create an infographic, a video and a series of blogs.

Content overdrive
So, as marketing teams go into content overdrive, what formats are they focusing on?

The research revealed the most popular types of content are blog posts, (frequently used by 61 per cent of marketers), followed by press releases (47 per cent) and case studies (45 per cent). However, this is in contrast with the most effective content types: video (47 per cent), case studies (46 per cent) and whitepapers (39 per cent).

Going forward, it is essential marketers begin to use the best type of content for their intended goals. The report showed the best type of content to generate the most leads is whitepapers. Reports, whitepapers and case studies generate most revenue. Whereas blog posts are the best at driving traffic to websites.

Planning matters
Creating effective content also means preparation and planning. While 68 per cent of brands have a content marketing strategy, 63 per cent of brands do not have editorial guidelines.

"Without a good set of guidelines you risk wasting a lot of time and energy on an expensive marketing discipline without a foundation on tone of voice, style and purpose, you are doing no more than 'hit and hope'," says Steve Kemish, managing director ofCyance. "A good set of guidelines shouldn't be more than one or two sides of A4, so there should be no excuse."

Guidelines should address the main objectives and features of the content marketing campaign. Forty-five per cent of marketers said the key feature of a successful programme was 'relevance to audience', 24 per cent listed 'engagement' and 19 per cent said 'appropriate channel use'.

Oddly, only one per cent said creating 'memorable content' was a key feature of a successful campaign. This adds to the argument brands are creating an abundance of 'one hit wonders' when it comes to content, rather than creating useful, interesting and valuable pieces their prospects will remember and keep in mind when it's time to buy.

Crowded marketplace
Creating successful content is only half the battle, ensuring it reaches the right people is the other. To do this 95 per cent of marketers use email to distribute content, followed by company website (93 per cent) and social media (91 per cent). 

With nearly all B2B marketers utilising these channels, brands have begun shouting messages at their customers rather than creating a two-way dialogue. In order to break through the noise and differentiate in a busy marketplace, practitioners should be looking further afield at new technologies and traditional channels that are currently less popular. For example, only 28 per cent said they distributed content via direct mail, 19 per cent via third party blogs and 17 per cent via a mobile or tablet apps. These less busy channels could be exploited.

Subsequently, trying to be heard above the noise of competitors is a continuing problem in B2B, with 'engaging target audience' listed as the number one challenge 37 per cent of marketers are facing, followed by 'measuring ROI' (34 per cent) and 'generating leads'  (29 per cent).

Only three per cent of those surveyed said they could measure ROI on their content activity 'all the time' (an increase of a mere two per cent since 2013). While 38 per cent said they could only measure ROI 'some of the time', another 15 per cent admitted they could 'rarely or not at all' calculate ROI.

It is worrying that ROI still remains a problem as 63 per cent of senior management teams prefer their marketing departments to demonstrate ROI, and a further 21 per cent have a 'strong emphasis' on it.

Marketers seem to be stuck when it comes to proving the value of their content activities, which may result in budgets being cut in the future. Farnell explains: "ROI attribution across channels has always been a problem and content will be no exception. The risk for marketers is that the lack of ROI tracking will result in a decrease in content marketing spend."

Overcoming challenges
All three of these challenges could be overcome by the proper implementation of analytics. While over half (55 per cent) of B2B organisations said they utilised data analytics, only 22 per cent said it played a 'critical' role when creating effective campaigns.

Jon Myers, VP and MD EMEA at Marin Software, argues: "Running analytics on your content can help reveal valuable insights into audience interests. The more data you have, the better. Discover where you get the most viewers, what types of content they're consuming, when they're accessing it, and what information sparks their interest or leads them to convert. This kind of data can be used to influence aspects of your future content – content type, post time, channel of distribution, etc. Many people are surprised at just how data-driven content marketing is."

Some 54 per cent of those surveyed used web analytics, 31 per cent social analytics, 27 per cent marketing automation software and 25 per cent CRM. Of the 27 per cent utilising marketing automation platforms, four per cent said they made 'little or no use' of the features, 57 per cent made 'some use' of the features, and only 17 per cent said they made 'full use' of the software.

This shows marketers are not taking advantage of the technology available. Without setting out goals that can be measured by analytics, marketers will remain lost – creating content that is of no value. This needs to change if brands want to engage with customers, prove ROI and generate real leads.

B2B Marketing's 2014 Content Benchmarking Report proves the popularity of content is still on the rise. But it also contains a stark warning: marketers need to take full control of their content efforts to overcome the major problems that remain with engagement, ROI and leads.