Autospeak-Straight Talk contains articles covering digital and social media marketing social communities and events marketing
The Three Biggest Challenges Internet Departments are Facing
Tags:
(Posted on Jan 10, 2014 at 03:44AM by William Cosgrove)
It's always fascinating for us at AutoUSA to learn about the trends in the market, the changes in customer behaviors and the challenges faced by our dealers. This year's annual survey results highlighted an evolving marketplace, where customer behavior is changing and forcing dealers to examine their processes, and their positioning in the market.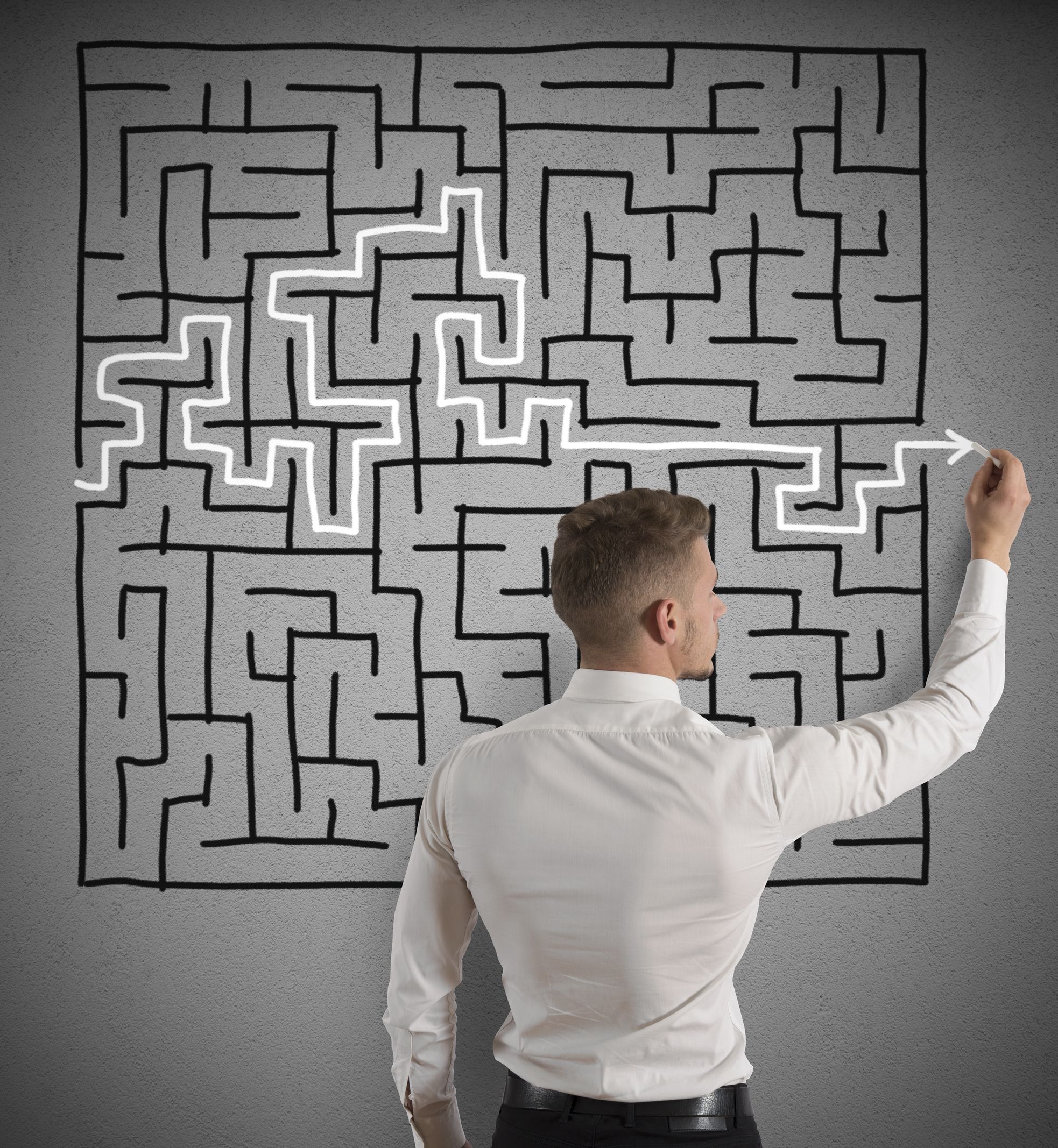 According to the results from AutoUSA's annual Internet Marketing survey, the following were chosen as the three biggest challenges that Internet departments are facing:
1) Not Enough Leads (26% of respondents chose this as a major challenge)
Dealers don't seem to be getting the hoped-for volume of leads they want or expect from their websites. This is interesting because two years ago, "keeping up with lead volume" was the number one challenge. In spite of increased spending on websites and SEO/SEM, and increased traffic, it seems dealers are failing to convert visitors into leads.
To me there's a simple explanation for this. Consumer expectations and behavior have changed in the last two years. Today's customers want to be in control of the car-buying process, while many dealers also want control of the process. As a result, dealers and dealer website vendors are saying "It's all about the lead, give me the lead," while their customers are saying "It's all about the information, give me the information." So when a customer visits a website and is bombarded with chat pop-ups, lead forms and can't find the information they are looking for (such as price or payment information), they are going to leave the website and find the information somewhere else.
This trend isn't going to change. Dealers must adapt and give customers the information they want, otherwise they risk losing them to a competitor. Remember, a customer visits only 1.8 dealerships on average before making a vehicle purchase. That tells me today's consumer has already done the majority of their research online before heading out to their top two dealership choices.
Dealers that focus on the customer's website experience – making it user-friendly, full of helpful content, and making it convenient for the customer to walk themselves through the process – are more likely to draw customers in than websites that are designed solely as a virtual brochure or to get the customer's information. Conversion tools that are useful to customers, including trade-in calculators, showroom-visit incentives, and payment quoting tools give customers a compelling reason, or even a reward, to submit their information.
Instead of battling for control, dealers should be helping customers with their search for information. Chances are, those who help the most will be one of the 1.8 dealerships visited.
2) Not Enough Staff (20% of respondents chose this as a major challenge)
Staffing issues tend to be a perpetual challenge year after year, according to our surveys. Whether it's not enough staff, the quality of staff, staff turnover or staff not following processes – it's clear that many dealers believe that finding, training and keeping the right staff is a never-ending challenge.
But is it really the staff that's the problem, or is it that many dealerships haven't changed their sales model to reflect the state of the market? It's well accepted that nearly 90% of car buyers start their search online. They, like the majority of us, are used to transacting business regularly online, whether it's buying books, music, electronics, shopping for homes or travel. The Internet is a common tool, but many stores still treat it as a stand-alone department. We continue to see progressive, successful dealerships with high volumes in Internet sales adopt a model where every salesperson is also equipped to handle Internet inquiries so they can scale to serve more "leads".
3) Quality of Staff (19% of respondents chose this as a major challenge)
As a young sales manager, I was taught by my GM that a salesperson's failure (and their subsequent departure from our dealership) was my fault. You hire a skill set, train the desired behaviors, and manage execution of the processes so that you have the best-quality staff possible.
There are many new hires who do not receive enough training and are not held accountable when they don't follow processes. If quality of staff is your greatest challenge, take ownership of that and improve the quality of your staff, and consequently the customer experience, by providing training and expecting excellence.
Salespeople can be trained to follow Internet processes; it's no different than training them how to take phone calls or how to deal with customers in person, just a different method of communication.
Other major challenges cited in the survey were as follows:
4) Staff does not consistently adhere to written processes (18%)
5) Marketing budget not large enough to accomplish objectives (18%)
6) Keeping up with lead volume (17%)
7) Lack of staff accountability (16%)
8) Lack of management buy-in (16%)
9) Lack of staff training (15%)
10) High staff turnover (9%)
What is your Internet department's greatest challenge? How have you dealt with some of these challenges?

POSTED BY Josh Vajda
Mobile Devices Accounting For Almost One-Third of Online Conversations Across Major Verticles
Tags:
(Posted on Aug 17, 2013 at 05:56PM by William Cosgrove)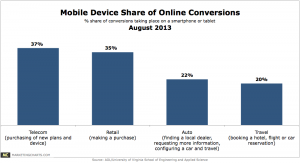 A study of 100 million "conversion events" across 4 major verticals (telecom, retail, auto, and travel) and multiple devices – including mobile phones, desktop computers, and tablets – reveals that 31% of said conversions took place on a mobile device. The study, conducted by AOL in conjunction with the University of Virginia School of Engineering and Applied Sciences (SEAS), also finds that 65% of mobile conversions took place on a tablet.

While Android and iOS devices each accounted for roughly 50% share of smartphone conversions, the iPad was the dominant tablet device, at 85% of conversions.

The proportion of conversions taking place on a mobile device has grown by 28% over the past year, according to the researchers.

Telecom appears to be the most heavily influenced vertical of the 4, with 37% of new plan and device purchases coming from a mobile device. Next up was retail, with 35% of purchases occurring on a smartphone or tablet. Auto (22%; referring to finding a local dealer, requesting more information, configuring a car, and travel) and travel (20%; referring to booking a hotel, flight, or car reservation) were relatively less influenced.

Consumers are now spending one-quarter of their digital time at home on their tablets or mobile phones, according to the study, and three-quarters of the mobile ad impressions tracked were viewed inside the home. While the researchers note that this "runs counter to the prevailing wisdom" that most mobile device use occurs outside the home, that view has been debunked several times, as discussed here.

About the Data: The data is based on 500 billion impressions served by AOL Networks during portions of 2012 and 2013.
by MarketingCharts staff

DealerNet Services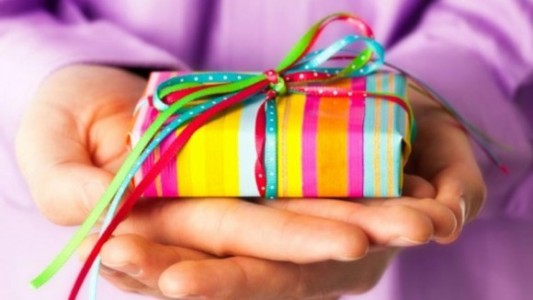 So how smart is it for small businesses to invest in giveaways especially when their profits are already wafer thin and they're struggling with their marketing strategies? The answer is of course yes! Giveaways are a worthwhile investment and go a long way in not only building better relationships with your existing customers but also comes in handy in making new clients.

Almost all small businesses are heavily dependent on their returning customers which constitute their 80% sales. Following are some of the reasons which make free giveaways a worthwhile investment for small businesses.

Customer retention

Customer retention is of utmost importance for wholesale suppliers since their business largely depends on a few big clients. In an industry where clients are hard to come by, wholesale traders must do whatever it takes to retain their existing customers since, as mentioned earlier, they are their primary source of revenue. Giveaways go a long way in showing just how much you value your special customers. Customers too in return feel the obligation of staying committed in their dealings with you and do not look for other suppliers.

Building better relationships

There is no better way of building trust and developing stronger relationships with your customers than via free giveaways. They are the best possible way to appreciate your valued clients and show them just how much they mean to you. Giving presents as such is a good practice and should be a norm because it literally spells out just how much the customer means to the company.

Free marketing

Before you give anything away, you should make sure that all of your giveaways bear the logo of your company. Giveaways with company logos and trademarks offer long lasting, cheap marketing for both your business and your product as well.

If, as an example, you have given away a paperweight to your client, you can be sure that it would do more than just weigh papers down! A desk, office accessory that your client puts on his office table is there for everybody he meets, greets in his office. So in that sense, you are not only reaching out to your client only but also to those who are your client is reaching out to.

Because of these and many other reasons, I believe this season every small business must invest in free giveaways.


Written by Robert.
DealerNet Services
Social Media: The Most Economical Yet effective Marketing Tool
Tags:
(Posted on Aug 13, 2013 at 07:48AM by William Cosgrove)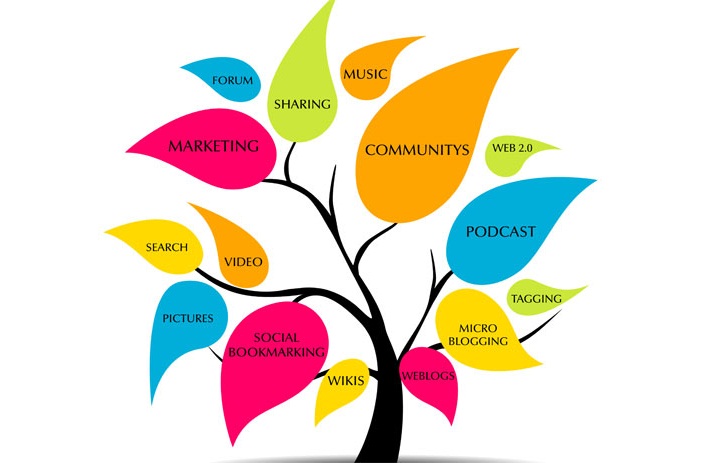 We all know that social media is huge today. People just can't live without sharing what they feel or displaying what they wear. It's all sociology from one perspective but it can also mean marketing to a few from another perspective. It is a common fact that where there is sugar there will be the bees. Similarly whenever there are huge concentrations of people, the marketer and advertisers are always there to make use of such situations and struggling to sell products or gain a good brand reputation.

Customer retention is by far the most effective way through which a business may gain prosperity and customer retention could only be possible when the people are repeatedly reminded of a brand or a shop or by simply infusing in them a desire to feel the need of anything which the company might be selling. With the advent of social media or to be more precise, when the social networking became the life of the people around the globe, viewership at a specific portal started increasing. Since all that a good TV channel needs is ratings to attract advertisers, here at social networking websites all was already set. People are frequently logging in and out of websites like Facebook, uploading pictures to get comments and statuses to tell their friends what they are going through.

The high concentration of people gathering around the social networking websites provides the traders with the cheapest form of marketing possible. The best part is that the add is displayed on various places and even if the user ignores the advertisement the people around the user may notice the availability of a new item at a some celebrated store and might hasten to buy it before someone else from the community buys. The desire to stand unique among the rest is experienced by everyone and it is this very desire which the traders may cash even when they are trading for wholesale products.

It is an open secret that nearly everyone uses Facebook, Twitter, LinkedIn, Instagram etc. these days. People even prefer to buy cell phones supporting applications which may lead them straight and in as less time as possible to their cyber wall where they post all their statuses or tweets or whatever they want to post. So naturally potential customers are always there looking for ways and means to get a better bargain in the market, searching for some better way to defeat that big competitor who usually gets all the customers due to his high quality yet economical products. Here is where the wholesale traders can actually seal a good deal and earn major profits if only they can post their advertisement, which is always facilitated by such websites.

Social media has by far, revolutionized marketing in every way imaginable. Advertising in now cheaper, effective and result oriented and many businesses are gaining the upper hand in the markets just by a little but careful investment on the social media. What people need to do is to concentrate on social media for advertising their products as compared to getting involved in other expensive, less effective means of advertising.
Written by Robert.
DealerNet Services

Which do you think would be more interesting to your customers – that your dealership is #1 in sales or that your dealership has the largest inventory in the region?

Here's a hint: One is about you, the other is about the customer.  One is inside-out thinking and the other is outside-in.

The differences between the two can be subtle, but simply put, inside-out thinking is when a company or brand talks about things the company cares about. Usually these are business-related topics like industry awards, marketshare growth, new logos, new hires, and so on – the kinds of things that make more sense in a press release than a newspaper circular.

Outside-in thinking is what your customers care about: added locations, extended hours, new inventory, easy financing, pick-up & drop-off services, if you're first-time buyer friendly, and so on. Outside-in thinking means thinking outside of the box and looking at your vehicles from the buyer's perspective.

Think of it this way, when you're inside out, your mouth is moving. When you're outside in, you're listening.

Don't misunderstand; of course you should present a professional and reputable business presence, especially when it comes to high-ticket, long-term purchases. In fact, a little inside-out thinking is good. However, there's a time and a place for that – a mention will usually do. What you want is to make customers comfortable as early in the process as possible so you get a shot at their business. Outside-in thinking is the surefire way to draw potential buyers to your door.

So, when you're branding your dealership, no matter if it's a radio ad, website or even a vehicle description, approach your messaging from your customers' point of view and use your "outside voice."
Posted by Anne-Marie Jeffrey

DealerNet Services
Ten Stats That Will Convince Anyone they need SEO
Tags:
(Posted on Aug 11, 2013 at 07:49PM by William Cosgrove)

Do you really know how important SEO is?  Seriously, do you really?

You can't just have a website with cars on it any more. You've got to make sure people can see it, which means you're responsible for link building, citation building, site optimizing, blog writing, and social media work.

That seems like too much work to most dealers, but numbers don't lie – and these numbers show just how important SEO is for continued success.

The first stat I hit dealers with is that there are 100 billion searches per month on Google1 - that's 33 million a day. To put it in better perspective, if each person on the planet were able to, they'd have to search on Google 5 times a day, every day.  This at first seems astronomical, but even today I've probably used Google 10+ times for non-SEO related searches.  I usually use this stat to illustrate the importance of Google's market share to dealers.  Frankly, Google rules, and it doesn't really matter if your small business ranks high on AOL.

The second stat: 89% of consumers use search engines for purchase decisions as well as (3.) 71% of business purchase decisions are started with a search engine. I know, I know… That's two stats, Bryant. I threw these together for a specific reason. It is in fact a 'double-edged sword' – regardless of the sector or industry you're in, both companies and consumers are using search engines to start the buying process.

At this point, I'm usually steering a dealer towards answering the "what does this mean for me?" question.  The next stat I use: of the 30 billion mobile searches a year, 12 billion are local.(4.) It is widely expected that in the near future, local searches will account for over half of all mobile searches annually.  This is where I start hammering in the importance of a mobile site.  If you don't have one yet, you absolutely need one.

With the fourth stat, I try to hammer home the importance of the mobile site. This is when I tell dealers that 77% of mobile search happens at work or home even though a computer may be accessible (5.) As strange as this sounds, it happens more often than you'd expect.  Regardless of where I am, even if I'm at my computer,  if I'm looking for driving directions, I use my phone. At home, if I am browsing on the couch, I am using my tablet.  It never occurs to me to jump on the computer in the office, or to pull up the browser on my home desktop for a simple and quick search.

The fifth stat backs up the mobile aspect even more strongly: 46% of mobile web users are unlikely to return to a website they had trouble accessing from their phone and even more are unlikely to recommend the site (6.) This is succinct enough to illustrate not only the importance of having good mobile content, but a site that's easy to navigate and isn't confusing.

The next stat is what I call "the closer" – 55% of purchase-related conversions occur within 1 hour of the initial mobile search  (7.) Simply and strongly put, mobile sites convert at a much higher rate than conventional websites – but if you aren't doing SEO, no one will find your site… and no one will convert.

The next three stats further illustrate the importance of SEO to dealers: in all searches conducted, 70% of users click on organic results  (8.) that 53% of the organic search clicks go to the first link (9.) and most importantly, 75% of users never click past the first page (10.) This is usually when the bell goes off for most dealers. They finally realize that if they  want to get more clicks, they have to rank the highest in the organic results – and that won't happen without SEO.

Stats even show that organic search leads are more qualified. SEO leads have a 14.6% close rate, while those archaic print or direct mail ads only close at a 1.7% rate (11.) Pretty crazy – leads from search engines are 8.5 times more likely to close than a standard outbound lead.

Most dealers aware of any of these points until we talk to them, which is why I'm sharing this post. In fact, Search Engine Optimization is still only an industry term that most people outside of marketing probably hasn't heard.  These numbers are proof – SEO is not only vital to maintaining a brand, it's absolutely necessary if you want to stay competitive and grow your business.
Written by Bryant Goodall
DealerNet Services


 Stat Sources:
1 Search Engine Land – August 2012 (http://searchengineland.com/google-search-press-129925)
2 Brafton – February 2012 (http://www.brafton.com/news/89-percent-of-consumers-use-search-engines-for-purchase-decisions)
3 Brafton – December 2011 (http://www.brafton.com/news/search-marketing-alert-61-percent-of-business-purchase-decisions-start-with-search)
4 Search Engine Land – April 2012 (http://searchengineland.com/analyst-mobile-to-overtake-pc-for-local-search-by-2015-119148)
5 Search Engine Land – August 2012 (http://searchengineland.com/study-55-percent-of-mobile-search-driven-conversions-happen-in-one-hour-or-less-151432)
6 Gomez – 2011 (http://www.gomez.com/resources/whitepapers/survey-report-what-users-want-from-mobile/)
7 Search Engine Land – August 2012 (http://searchengineland.com/study-55-percent-of-mobile-search-driven-conversions-happen-in-one-hour-or-less-151432)
8 Search Engine Journal – April 2012 (http://www.searchenginejournal.com/24-eye-popping-seo-statistics/42665/)
9 Search Engine Watch – October 2012 (http://searchenginewatch.com/article/2215868/53-of-Organic-Search-Clicks-Go-to-First-Link-Study)
10 Hubspot – May 2011 (http://blog.hubspot.com/blog/tabid/6307/bid/14416/100-Awesome-Marketing-Stats-Charts-Graphs-Data.aspx)
11 Search Engine Journal – April 2012 (http://www.searchenginejournal.com/24-eye-popping-seo-statistics/42665/)

- See more at: http://blog.autorevo.com/2013/08/10-seo-stats/#more-3198
The Most Valuable Commodity In Online Marketing
Tags:
(Posted on Aug 10, 2013 at 07:48PM by William Cosgrove)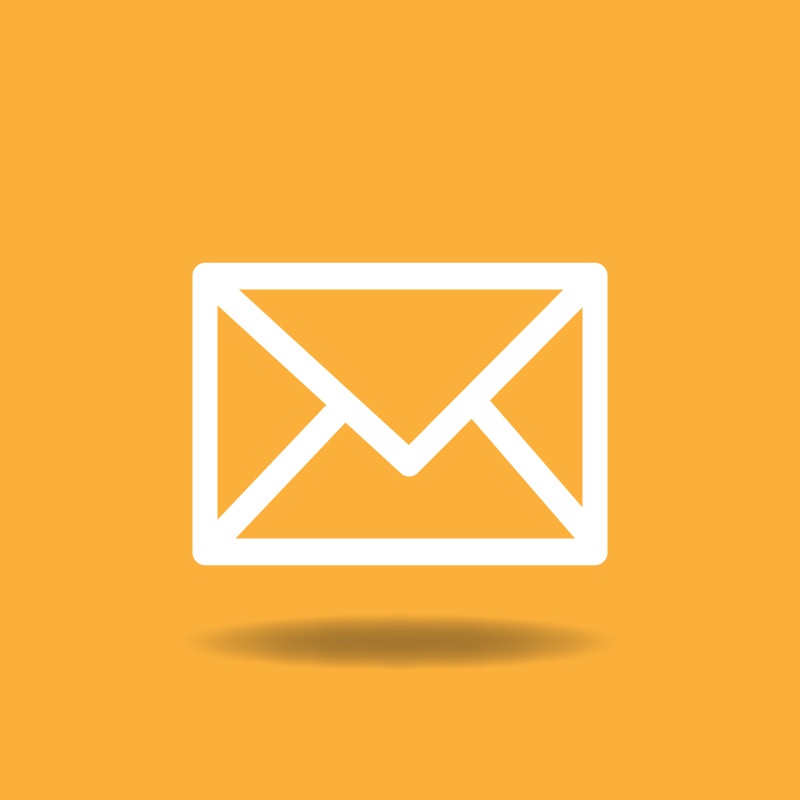 What you did five or 10 years ago is probably more important than your 30-second visit to some e-commerce site that's now bombarding you with cookie-fueled retargeted ads.

That's why looking to the past – not to the future – is the key to success in the world of data.

Here's a quiz:  What's the most meaningful piece of digital data about you?

1)        One of the 100-plus third-party cookies dropped on you today.
2)        Your 2004 @gmail.com address or 1997 @AOL.com email address.

While you may not think of it this way, the oldest piece of useful digital data about 'you' is probably your personal email address.  Your email address is the Internet equivalent of a combination birth certificate, driver's license and passport.  As a digital person, you are virtually born the day you get your own email address.

What's so valuable about something that everyone has?

Uniqueness.  Email addresses are personal by design – no one's been able to devise a better "openID" – and they establish a persona that is very descriptive.  AOL, Hotmail, Yahoo or Gmail – your email tribe membership card is like a geologic sedimentary layer.

Longevity.  Unlike short-lived cookies, email addresses have half-lives that are growing every year – since people tend to keep their personal addresses forever.  How long have you had your personal email address?  Why would you ever get rid of it?  Probably not. It's become your digital name.

Portability.  Email works in mobile as well as it works on desktop.  You carry your email addresses along with you on every device, unlike the device/browser-dependent cookie.  The first thing you do when you get a new device, to make it useful, is setup your email address (and for many, your Apple ID, which is an email address, of course). Services like "Last Pass" are the closest cookies come to portability are services.

Access.  Email addresses have become your de facto login for every site and app you visit and use.  It's now practically impossible to use the Internet without an email address – even if you don't subscribe to a single email newsletter.  Try it. I dare you.

With the third-party cookie under attack from Do Not Track, marketers have been looking for the next big thing. That'e email, thanks to the MD5 hash,  privacy-friendly 32-character one-way encryption of the email address. This simple process has allowed Facebook, for example, to create a "custom audience" targeting product that allows retailers to upload hashed customer data segments to target their subscribers who are spending time on Facebook – and show them an ad consistent with their customer status.

And when paired with a cookie downloaded at the time an email is sent and opened, email-address hashing works for display retargeting too.

In the coming months, you'll start seeing so-called "custom audience" capabilities arrive from Twitter, PayPal, Amazon, you name it. Any site that requires an email address as an account login can get into this game. As marketers realize the superiority of the email hash, they will be bringing long-tail CRM data online, and we'll all be better off for it. After all, who wants to spend for a prospecting campaign to their best customers?

Take another look at your old email address. You're looking at the future.
Wriiten by 
Dave Hendricks
DealerNet Services
The Importance Of Influencing Pre-Market Consumers On Social Marketing
Tags:
(Posted on Aug 10, 2013 at 06:29PM by William Cosgrove)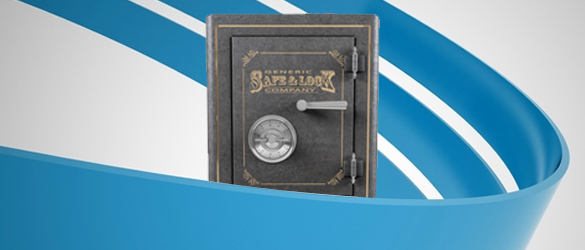 63 percent of car buyers have an initial brand in mind before they begin researching their purchase. (Source: Google/think)

Why should you care about this stat that has to do with a category in which you likely do not compete?

Great question.

You should care because what this demonstrates – check that, proves – is that consumers' brand preference and purchase intent is being influenced in the pre-market stage of their purchase path. That is, they are making critical decisions that will influence their purchases even before they are thinking about making a purchase.

Powerful stuff.

So, what does this have to do with social media and content marketing?

Another great question.

Well, this has a lot to do with it actually. Social media and content marketing affords us the opportunity to forge relationships with consumers at every stage of the purchase cycle – pre-market, in-market and post-market.

By finding ways to develop relationships with consumers before they are thinking about making a purchase – in the pre-market phase – we can influence brand preference, land our businesses within consumers' initial consideration set, and dramatically increase the chances of making a sale to consumers when they are ready to make a purchase, or when they are in-market.

How can you do this?

That's right, probably the best question yet.

There are actually a number of ways that you can do this, and a number of things to bear in mind when doing so.

Here are a few thoughts for how you can develop relationships with pre-market consumers that work toward influencing their purchase decision in your favour:

Provide value that is contextually relevant

I write about the importance of providing true value to your audience on social media a fair bit, but it is absolutely imperative when we're talking about influencing pre-market consumers. The value and relevance of your content is what is going to attract them to your brand even before they're thinking about making a purchase. Depending on your strategy it can also build credibility, establish trust, sway perceptions, and more.

When developing your content strategy for connecting with pre-market consumers, the content they view as being valuable may be different that what in-market or post-market consumers see as being valuable. They aren't yet invested in your business or brand, and they might not even be thinking about your category at this point! This can dramatically affect the content you should consider producing, though it should always retain relevance to your value proposition.

Don't pitch them

This is pretty simple, but don't bother pitching to pre-market consumers. Don't try to sell to them. They're not shopping, so you shouldn't be selling. Just think about how annoying it is when a salesperson approaches you and is pushy when you're just browsing, or accompanying a friend with their purchase.

Avoid turning pre-market consumers off of your business or brand by laying off the pitch until your consumers have indicated they're ready for it.

Invest, be patient and be confident

What I'm talking about here is no flash in a pan solution to selling like crazy on social media. This is an approach that will take time, and the value of which will be more apparent in the long run.

Invest in connecting with pre-market consumers today so that you can sell them not tomorrow, but six months from now, or a year or two from now.

This approach will yield returns, but they won't be the immediately apparent returns of cutting prices, or holding a BOGO event. Be patient and confident in your strategy and you'll see the benefits in due course.

_

This approach of targeting pre-market consumers is not intended to work for every business. If consumers in your business' category go through a short purchase cycle, or purchases are made by impulse, then there may not even be such thing as traditional pre-market consumers in your category.

However, if purchase cycles are sufficiently long, and the financial payoff of converting social media activity to a sale is high, then I strongly recommend you start thinking about your social media and content marketing activity to pre-marketing consumers as an amortizing investment.

How do you target pre-market consumers? How do you get people interested in your business even if they're not looking to make a purchase? Have you had any success attracting people to your brand even if they're not considering making a purchase?
Written By 
Matthew Peneycad
DealeNet Services
Refresh your marketing - Build a lead generation engine using your website
Tags:
(Posted on Aug 6, 2013 at 09:57AM )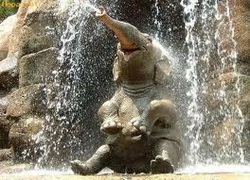 Why should you refresh your website for the purpose of inbound marketing?


Because it's cheaper - a lot cheaper - than other marketing 
  (up to 61% cheaper 
according to research)


Because it can be measured - "What, I can measure real ROI on my 
marketing? You're kidding!" No we're  not.


Because it's where you can influence most of your buyers. 
  We are in the "era of the buyer" where 
the buyer is searching for information  online, all day every day, if you're not 
there they won't find you. It's that  simple. Over 85% of B2B buyers start their 
purchasing journey online through  outlets like social media according to research from 
Forrester.
Additionally, digital marketing is evolving at lightning speed, making it difficult for most of us to keep pace, let alone stay ahead of the curve. And,the result of all these advancements is that most marketers are overwhelmed.

Regardless of the rate of change, one indelible fact stands head and shoulders above the rest, it's incredibly important to recognize that simply having a website is not 
enough.

In today's world, B2B marketers must adapt their website and turn it into an  
inbound marketing lead generation machine. That may seem a lofty goal. 
So, your website will need to wear many hats. A website needs to perform and 
not just  exist. Your site needs to attract visitors, educate them and  convince them to buy.


In most cases, the traffic you drive to your website from blogs, social media 
sites, as well as organic and paid searches ends up converting into leads or 
sales. Without your website acting as an online "home base," it would be 
difficult to attract new business. This is why having an effective website is 
so  crucial – and why it's so important that it contains powerful key elements 
to  drive more traffic, leads and sales.


Whether you have some experience in inbound marketing and just want to brush 
up your skills or you know you need to evolve your current marketing, take our  
B2B Marketing Health  Check to find out your starting position. "Auditing" where you are now 
is  the first crucial step in building a plan for moving forward.


1) Getting found by your buyers
Let's face it, it's not going to be much of a website if no one visits. 
Therefore, your first mission is to get found online, 
covering the very top of your inbound  marketing strategy funnel. Building 
inbound links, discovering the secrets to on page SEO 
and how to create effective meta tags  are all essential ingredients. 



2) Investing in good design and usability
Let's assume you're really gaining traction – getting found online. Your next 
focus is to get that traffic to stay and not stray. 
Remember, you only have one chance to  make a good first impression.


Make sure your website reflects your brand and positions your company as 
trusworthy and credible. Don't underestimate the power of good design, 
including: navigation, fonts, colours, images and branding consistency.


But don't get caught up on the need to "look pretty", and instead focus on 
the functionality of your site. How easy is it for people to find what the are 
looking for? Equally important, is your message blisteringly clear? 
Really? I mean really! Or are you disguising your ability to genuinely help 
your  buyers under layer upon layer of corporate double speak and product 
gobbledygook  about why you are the best game in town?


3) Building content
With the rise of inbound marketing, content has become front and 
centre in the minds of marketers.  It is what search engines and 
potential customers are looking for. It's what  drives visitors to your site and 
turns prospects into leads. There is no  disputing that content is king.


However, while search engines are getting smarter and smarter and buyers are 
becoming more and more selective, it is quality content that 
is  king. When it comes down to it, your buyers' reaction to your content will 
be  the ultimate test. Does your content generate leads? Do you have a content 
marketing plan that fuels your lead generation engine? 


4) Converting at each funnel stage
Now that you've increased traffic to your website, it's time to convert prospects to 
leads. Don't let visitors leave your  website without providing 
them with valuable information or you'll lose the opportunity to nurture 
them until they are ready to buy.


Landing pages are one of 
the most important elements of  effective lead generation. Building powerful 
landing pages allows you to direct  your website visitors to targeted 
information, present them with robust calls-to-action and 
capture leads at a much higher  rate.


5) Measuring results
By measuring your inbound 
marketing you get to see what is and is  not working and then you 
can change where you invest your precious marketing  time and dollars. Small 
incremental tuning of your inbound marketing engine  produces significant 
overall improvement in the quality of leads on which your  sales team can 
feed.


If your business is struggling to adapt to new marketing strategies or, you 
simply haven't been able to generate a real impact in your chosen market, it may 
be time to conduct a marketing audit.
The truism "You get what you pay for" is as true as true can be when it comes to building a company website. When small firms fail to budget properly, one of these nightmare scenarios is likely to ensue:
The site ends up costing two or three times more than expected, causing all-important post-launch marketing activities to be cut back or eliminated.

The site ends up having half or a quarter of the desired functionality, rendering it nearly useless.

The site ends up as a series of compromises in design, content and functionality, making a mediocre impression on customers and prospects.
The underlying problem, as these three scenarios suggest, is under budgeting — or not budgeting at all. What's the best way to set a budget and lay the groundwork for a site that meets your expectations?

Step One: Create Site SpecificationsSetting a realistic budget starts with having an idea of what you want the site to do, so let's start there. Important things to consider include:
Design. How much customization do you want? Will a standard WordPress theme suit your needs? Do you need a custom design from the ground up? Something in between? Do you have imagery for your new site, or will photos need to be taken? If so, how many photos (or other imagery such as charts and diagrams) will be needed?

Content. How much unique content will your site need? 10 pages? 100 pages? Will it be easy or hard to write? Do you have the ability and bandwidth to write it, or will you need to outsource copywriting? If outsourced, will the writer need to do extensive research to write the copy properly?

Functionality. Do you need more than a basic contact form? Do you want to offer downloadable PDFs or other information? Do you want leads from various forms to be tracked? Will you need e-commerce, and if so, what type of payment options? Are there any other functional requirements, such as integration with internal systems or third-party e-commerce sites? Do you want to optimize your site for search engines (SEO)? Will you need W3C or other compliance? Do you want Flash design or a customer portal?
Step Two: Seek ProposalsOnce you have a rough list of desired site specifications, you're in a position to solicit proposals. A web development agency (or freelancer) will need these inputs from you to provide a reasonable estimate. The proposal might match up precisely to your specs, but more likely, it will have modifications based on practical considerations or the agency's capabilities. This is OK; often, a developer has ideas that reduce cost and yet meet your needs.

Considering three or four proposals on the initial go-around is best, because you're apt to see a fairly wide range of prices and approaches.

Step Three: Align Expectations and CostsA likely outcome will be the realization that your desired site costs much more than you expected, but this is OK, because you're now in a position to have a meaningful review of development options, their real value, and their real cost. The biggest disconnects that are revealed by following this three-step approach include:
Design disconnects. Creating images is expensive and time-consuming. Often, firms don't care about images in the early stages of a project, but later on, when they see boring, text-heavy pages on the test site, they desperately want a lot of customized imagery. Settling for tired stock imagery, the usual Plan B, results in a generic-looking, unimpressive site.

Content disconnects. Content is far more expensive and time-consuming to create that most people realize. Firms often assume they can have an employee whip up content at the last minute, and learn too late that's an impossible task.

Functionality disconnects. Firms typically have no idea what pieces of site functionality — some of which were detailed above — actually cost. They become frustrated in mid-project when they ask the developer to "throw in" a little e-commerce and discover it costs $5,000 to do so.
By using initial proposals to set a budget for your site project, you prevent unpleasant surprises down the line. In addition, you're more likely to find the right developer for your project and create a site that is truly right for your business in terms of overall performance and cost.

Following this plan takes serious upfront strategic thinking and grunt work, but the payoff is big. Pulling a budget out of thin air, or committing your business to a new site without a budget at all, are risky approaches that can drain your bank account and set back your Internet marketing for several years. It's an unnecessary risk.

Brad Shoor, Contributor

DealerNet Services