Autospeak-Straight Talk contains articles covering digital and social media marketing social communities and events marketing
Social Media in 2013 by the numbers
Tags:
(Posted on Dec 31, 2013 at 05:43AM by William Cosgrove)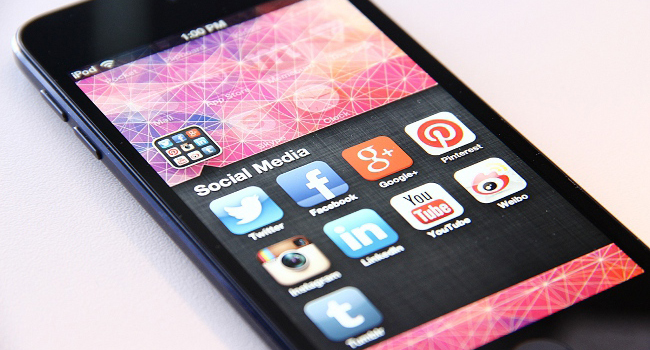 When it comes to social media, it's sometimes hard to wrap your head around what's going on in a rapidly shifting world of tweets, +1s, pins and likes. But sometimes, a nice set of facts and figures can give you some perspective.
In an attempt to put a number on all the various goings on over the year regarding some of the world's biggest social media sites, we've rounded up some interesting stats about everything from Facebook to Myspace.
1.19-billion: That's how many users log into Facebook every month. The big blue social network also saw a crazy 727-million daily active users as of the end of September, and 874-million monthly active users of its mobile products.
300-million: No, it's not as small as you think — people are definitely using Google's social play, even if it's just to occasionally show their appreciation with a +1. Google announced in October that it has grown to see 300-million monthly active Google+ users, up from 100-million in September 2012. It also sees 540-million monthly active users which don't just use Google+ apps and visit plus.google.com, but use their Google+ credentials to do things like sign into comment forms.
232-million: The number of monthly active Twitter users as of October, gaining 15-million users in the proceeding three months. Another scary figure? Twitter's losses rose from US$21.6-million in the third quarter of 2102 to US$64.6-million in the same period this year. It is making money though (if not profit) — 70% of its advertising revenue was generated from mobile devices and the vast majority (76%) of all its monthly active users logged into the service from cellphones and tablets.
150-million: Yep, the little retro photography app that could has now grown to 150-million monthly active users — up 50-million in six months, expanding from just 90-million at the beginning of the year. There is another interesting Instagram stat though — eight out of the ten most popular Instagram locations are in the United States. In case you're wondering, the other two — including the most frequently tagged location overall — are in Thailand.

Click to see chart


40-million: That's the number of registered users Twitter's Vine app has racked up to date, following its launch (first on iOS) in mid-January this year. It gained 13-million users by June, when it launched the Android version of its app, but hasn't given any figures on the number of monthly active users so far.
3-billion: The amount, in US dollars, Snapchat CEO Evan Spiegel reportedly turned down, after deciding not to sell his hit messaging app to Facebook. Yes, 3-billion. Instagram was offered a third of that a year ago.
45.10: The amount, in US dollars, which Twitter's stock cost when it initially hit the NYSE in early November. At the time, it saw Twitter valued at US$31-billion. Since then, the stock price has increased, peaking at US$59.74 in mid December.
130 000: The number of tweets per minute generated by conversations around the announcement of the new pope. Other major spikes in conversation include the Boston bombing (27-million related tweets were sent), the 2014 FIFA World Cup Draw (which generated 1.17-million tweets) and the arrival of the royal baby (25 300 tweets per minute).
90-million: The amount, in US dollars, that LinkedIn paid for newsreader app Pulse. It was later integrated into the professional networking site, replacing LinkedIn Today as a means to surface interesting content for the site's 200-million registered users.
6: The position held by the Harlem Shake on Facebook's list of most talked about topics in 2013. It was beaten by Pope Francis, elections, the royal baby, the word 'typhoon' (presumably mainly referring to Typhoon Haiyan) and Margaret Thatcher's death.
15-million: That's how many users Myspace gained after its relaunch in January, going from 21-million registered users to 36-million in October.


By Lauren Granger: Staff Reporter memeburn.com
80% of Customer Service Inquiries Go unanswered on Social Media.
Tags:
(Posted on Dec 30, 2013 at 03:39AM by William Cosgrove)
Customer service used to be handled either in person or over the phone. These days though, consumers are turning more to social media for their customer service needs.
According to a study by social media marketing firm Sprout Social, consumer messages that required a response from a company increased 178 percent. Utilities such as cell phone and cable providers have seen the biggest increase in consumer engagement on social media, according to the study.
The problem is that consumers using social media expect a quick response and brands just aren't delivering. In fact, according to the study, the average response time has increased from 10.9 in Q3 2012 to 11.3 hours in Q3 2013. Unfortunately for brands, inbound messages from consumers also increased during this same period, the study says.
According to Sprout Social CEO Justyn Howard says, this marks a significant shift in how consumers are interacting with brands and brands need to act accordingly. "Businesses need to regroup and retool to shift from a largely marketing-driven focus in social channels to one that revolves around the customer," he says.
The study indicates that brands may be struggling to keep up with the increase in inbound consumer messages. Indeed, response rates on both Facebook and Twitter, the networks where consumer messages have increased the most, have dropped below 20 percent. This means that four out of five inquiries goes unanswered, Howard says.
"This would not be tolerated in traditional channels like phone and email and is not a sustainable practice,"  he says.
Unfortunately, the bigger the audience, the lower the response rate, the study says. And while brands with smaller audiences are more responsive, they still do so at a leisurely pace.
If this study is any indication, brands need to direct more resources to responding to consumer on social media. While it might be tempting for brands to focus their energies on content marketing, social engagement is also about taking care of the consumer needs.

By Kimberlee Morrison
Image credit: the UMF
Using Negative Keywords for Better PPC Results
Tags:
(Posted on Dec 29, 2013 at 04:29AM by William Cosgrove)
When running a pay per click campaign, using negative keywords is an absolute must. As more of us are forced into bidding on only the most popular keywords, use of broad match types is often necessary but to get the best results, you'll need to specify negative keywords too.


What Are Matching Types?
By using different matching options with your keywords, you'll have better control over what searches trigger your advert to be shown. Google AdWords offers 4 main different matching types:
Exact match

Phrase match

Broad match

Negative match
Find more information about match types here.
A broad match key phrase might be "ladies clothing". This means that whenever anyone enters a search which includes the words "ladies" and "clothing" your ad will be triggered. However, if you are an equestrian supplier, if someone types in "ladies fashion clothing", using broad match, your ad would be triggered. Now clearly, someone looking for fashion clothing isn't looking for specialist equestrian clothing and so the chances of a click through are very low and if you do achieve a click through, the chances of that person making a purchase is even lower because your products aren't relevant to them.
By using negative keywords, you can essentially filter out more irrelevant searches and stop your ad from being triggered, avoiding the need to pay for a potential click through that will not convert. In this instance you could use a number of negative keywords which might include "fashion" "football" "sports" and so on.
Benefits of using Negative Keywords
Better click through rate  (CTR)

Improved conversion rate

Higher quality score
Much of the time Google won't allow you to bid on niche keywords because it predicts a 'low volume' of searches. Now, low volume can actually be a pretty good thing. If your keywords are very specific and highly relevant, the quality of the traffic you receive is likely to be much higher, leading to a lower bounce rate and ultimately better conversions. However, Google doesn't want you to benefit from these types of keywords as it doesn't make as much money from them; instead, it forces you to use more popular keywords and more popular of course means, more competition, which in turn forces you to place higher bids.
When it comes to setting up your campaigns, i'd suggest creating one main negative keyword list and applying it to all related AdGroups. To help you get started, below you will find some lists of negative keywords that you might want to use to modify your P.P.C. campaign.
Negative keyword list Ideas
Comparison shoppers
alternative
compare
comparison
compared
estimate
prices
Price shoppers & bargain hunters
bargain
cheap
clearance
closing down sale
discount code
discount
discounted
end of line
free
low cost
offer
overstock
price drop
price
pricing
sale
sample
special offer
value
voucher code
Researchers
advice
book
case studies
download
eBook
guide
how to
journal
news
reference
research
reviews
statistics
tutorial
training
white papers
Industrial & economic
building
builders
building
consultant
design
diagnosis
diagram
exports
exporter
fabrication
guidelines
guide lines
health and safety
making
mechanics
method
methodology
measurement
model
regulations
rental
repair
specialist
services
tooling

Authored by: Shell Robshaw-Bryan
The post Using Negative Keywords For Better PPC Results appeared first on Marketing & Social Media Blog | Marketing insights, tips and advice.
Social Media in 2013: Maturity and Mobility
Tags:
(Posted on Dec 28, 2013 at 04:32AM by William Cosgrove)
This past year has seen two important developments in the world of social media. Its users are getting older, and the media content is increasingly being accessed from mobile devices such as smartphones and tablets.
Social media has often been thought of as a platform for young people. But the demographics are quickly changing. For instance, the fastest-growing group of Twitter users is aged 55-64, while Facebook and Google+ see the most growth from the 45 to 54-year-old cohort.
The development of an older audience – who likely have different views than those held by their younger counterparts – may create more robust discussions on social media, and a more vibrant public sphere. The major social networks themselves may adjust to accommodate their changing user base, and new, niche networks may arise to appeal to these older users. 
Many smaller social networks, such as Instagram and Snapchat, still have very young user bases. But as they become more mainstream, they too will begin to become more broadly representative of the public at large.
Meanwhile, social media has seen the future, and the future is mobile. There are more smartphones in the world than computers today, and this trend shows no sign of abating. In the past, desktop versions of Facebook or Twitter were updated before or at the same time as their mobile app counterparts. That's changed. In 2013, both of the biggest social networks put mobile first, and mobile apps often boasted exclusive functionality not found on their desktop counterparts.
The switch to mobile will have major ramifications on the type of information shared on these networks. Content created or shared from mobile devices is often more up-to-date, more likely to be original and can include additional attributes such as geo-location. The dominance of mobile devices will likely lead to more content being created, consumed, and shared by other mobile users. In short: made by mobile, for mobile.  
The message is clear: You are most likely reading this on your smartphone or tablet. You are also probably a little older than you think the average person reading this would be.
Follow Rami Khater on Twitter: @ramisms
Audience Targeting even more important for 2014 Social Marketing
Tags:
(Posted on Dec 27, 2013 at 06:12AM by William Cosgrove)
Social media marketing is becoming more science than experiment as consumer behavior studies surface. Smart brands will recognize how various demographics use each network to share information and interact with others, using this insight to craft specialized campaigns that enhance rather than clutter users' experiences across channels.

For instance, members of Gen X tend to rally around Facebook, while female Millennials tend to openly engage with brands online and tech influencers are some of the most active Twitter users. 

Facebook marketing for Gen XIn the midst of what appears to be reinvention, Facebook is shifting its focus from people's personal lives to interesting information. From its beginnings as a collegiate networking platform, the site has amassed a global following that's more than a billion strong. However, skeptics now doubt whether it will hold younger consumers' interest, given the popularity of visually focused platforms like SnapChat, Instagram and Vine. Facebook may be answering that criticism by offering something its older users want – information and personalized content. 

Facebook remains the favorite social network among the Gen X demographic.

According to emarketer, Facebook remains the favorite social network among the Gen X demographic, which includes people born between 1965 and 1980. The report suspects brands will have more success reaching this group by targeting them on Facebook, because members tend to treat the site as a hub more than any other platform.

Female Millennials openly engage with brands on social networksOn the other hand, marketers targeting younger female audiences might find it's less about finding the right channels and more about defining an identity that resonates with their prospects. A separate study by SheKnows and Harris Interactive found Millennial women follow more brands on social networks than either Baby Boomers or Gen Xers – about 22 on average.

The study found women are looking to build identities and relationships online, and they often look to content shared on social sites to do both. Marketers who create effective social media content can keep their audiences informed and inspired as they foster connections that turn into brand loyalty over time.

Millennial women follow more brands on social networks than either Baby Boomers or Gen Xers – about 22 on average.

Active Twitter audiences smaller than expected?Twitter is usually heralded as one of the social media giants, but its general membership may actually be less active than anticipated. A study conducted by Jon Bruner of the O'Reilly Radar revealed a striking fact: The majority of Twitter members are hardly active and have just a handful of followers. The median account has just one follower.

While there are small pockets of highly active members, they're likely considered industry influencers. According to the study, this accounts for just those in the 96th percentile are active Twitter members. Therefore, it's important that marketers identify core user groups and speak specifically to them rather than casting a wider net that distributes content to accounts that are rarely used. 

However, audience research and targeting is an important part of any social marketing strategy. Brands must know who they want to reach and create content specifically for those readers if they want to be successful moving forward.

by Brafton Editorial
How to Crack the Email Deliverability Code
Tags:
(Posted on Dec 26, 2013 at 04:32AM by William Cosgrove)
According to ReturnPath's 2013 email benchmark survey – 22% of opt-in emails aren't reaching subscribers' inboxes. And while that number is down from the 28% of the previous year – it still demonstrates that nearly a quarter of messages are missing the mark.
Email deliverability is improving, but only slightly
Despite advances in email marketing technology, spam trapping and opt-in communications, improving these numbers for yourself (essentially, your email reputation) is fairly simple and fundamental. Still, it's all too easy to forget (or outright ignore) the basics.
First, let's take a look at how emails are filtered. Understanding this will give you an inside look at reasons why your message could go missing.
Email Filters
Many email programs use simple filters to sort messages before they ever land in your inbox. You've likely set some of these up yourself – mail from domain "fakerolexwatchexample.com" automatically gets shuttled to the circular file, for example.
But your internet provider also tries to lend a hand in filtering. Oftentimes, ISPs will subscribe to a number of spam-detecting and filtering services, which in turn helps to free up their bandwidth and keeps junk traffic from bottlenecking in their networks. These services rely on domains and URLs being noted as spam by their subscribers, and thus blacklisted.
False-Positive Spam
Sometimes, your email address can be falsely marked as spam – particularly if your email message contains certain spam trigger words that have the unfortunate side effect of blacklisting your message before it ever goes through.
Here are few common trigger words:
Buy

Buy direct

Order

Cheap

Cash

$$$

F r e e

Save up to

Success

Wife

Medium

Avoid

Friend

Hello

Dear
For a long list of spam trigger words, take a look at this Hubspot article.
Gmail's Tabbed Inbox
Gmail's newly-released tabbed inbox is in a class all its own when it comes to message filtering. Essentially, Gmail has taken it upon itself to automatically sort your messages into convenient "buckets" — Primary messages are from people you know and trust – friends, family and colleagues. Social messages are notifications from your social networks, and promotions are emails such as coupons, deals and offers (even if you've already subscribed to and whitelisted them).
Gmail's introduction to the tabbed inbox
What's more, a sponsored ad can appear at the top of your inbox and look precisely like a message sent on behalf of Google to clue you in to something you might like. It has its own sender, description and subject line – just like an actual email would.
A clever example of a Gmail ad
Currently, Gmail ads only appear in the promotional tab, so it's in Google's best interest to encourage users to click there. Fortunately, users are quickly learning that if they want access to the email deals they opted in to receive, they'd better pay attention to the Promotions tab.
A study by Returnpath has already been done to determine the deliverability and read rates of messages that are sent to the different tabs:
90% of commercial messages go to the Promotions tab – by the Primary tab is by far the most read
How to Gain Entry to the Ultra-Exclusive Primary Tab
The primary tab is where the biggest chunk of the reading takes place – and marketers are keen to get their emails into this ultra-exclusive favorites club. Here's one tactic that a fashion site is using by sending out an email blast specifically targeting Gmail users:
When you drag an email into the primary inbox, you automatically whitelist the sender so that future messages from them will also be put in the Primary tab. Therefore, it's in every marketer's best interest to give their subscribers instruction on how to perform this one-time drag-and-drop.
Trigger Words that Get You in the Inbox
Just like trigger words can get your email mistakenly labeled as spam, so too can trigger words increase your odds of landing on the primary tab or inbox. In the case of Gmail, certain trigger words can also automatically land you in the Promotions tab – words like coupon, alert, direct message and receipt. Which words were most likely to make it past the digital gatekeeper?
Financial-sounding words like statement, reply and attachment. SMS led the pack though, with a staggering 51% of messages featuring it as part of the subject line getting a free pass:
Financial terms like statement and attachment get priority over other terms
What Email Marketers Need to Know
The bottom line is that, as senders, we need to keep our pulse on the kind of content our readers like and appreciate. The more our messages are tailored to their needs, the more likely they are to give us that coveted whitelisting.
With that being said, however, consumers will still mark a message as spam even if they originally opted in to receive it. For many users, marking a message as spam doesn't so much say "I don't know who this sender is", but "this offer doesn't fit me." ReturnPath's survey also found that subscribers were more likely to tag an email as spam rather than unsubscribe (even if the unsubscribe link was noticeable).
Beyond those things, here are a few more best practices to keep in mind:
Make sure your list is spotlessly clean. No purchased email lists, no matter how fresh they promise to be. Survey your list and segment users accordingly to keep them in the loop with helpful messages that they'll be more likely to read, click and interact with.

On that note, many email providers will gauge how "whitelistable" you are as a sender, based on how the user interacts with your message. If they hit Delete as soon as it loads, your sender score will drop, whereas if they reply, forward, scroll or click, your score will increase.

If you've been falsely blacklisted, it's a good idea to set up a monitored email address – such as abuse@yourdomain.com so that spam-filtering organizations and major ISPs can report this abuse to you. Keep your list informed of the steps you're taking to fight these fake and false subscribers.

Your email marketing provider should allow you to track who has opened your messages. If the same subscriber hasn't opened your mailings two times, try sending them a personal note and ask if they'd like to receive messages with less frequency, or what you can do to connect with them in a way they'd appreciate?

If your subscriber still doesn't open your message a third time, remove them from your list. The same rule applies if an email bounces back (although most modern email services will remove it automatically if this happens)
View the Infographic: The Rise of Mobile and Triggered Emails
About the Author: Sherice Jacob helps business owners improve website design and increase conversion rates through compelling copywriting, user-friendly design and smart analytics analysis. Learn more at iElectrify.com and download your free web copy tune-up and conversion checklist today!
Social media fuels Elf-On-The -Shelf mania
Tags:
(Posted on Dec 24, 2013 at 03:53AM by William Cosgrove)
When American author Carol Abersold created a small, stuffed doll to accompany her self-published, Elf-on-the-Shelf children's story book in 2005, Facebook was barely a year old.
Eight short years later, Elf-on-the-Shelf is an explosive holiday tradition, fueled in large part by social media platforms such as Instagram, Pinterest and Facebook.
According to Abersold's book, the red felted toy is a special scout sent from the North Pole to help Santa manage his naughty and nice list. Read: narc on the children of the family regarding both good and bad behavior.
But over time the little elves have started to dabble with their own naughty side: toilet-papering Christmas trees, gift-wrapping toilet seats shut, drawing mustaches on family portraits, making flour angels on the kitchen counter, breaking out the syrup jug for an old-fashioned gulp. Typical Elf behavior, right?
Kids, of course, love waking up to discover each and every new piece of mischief – almost as much as parents enjoy cooking it up.
Why else would mom and dad get up in the middle of the night to discreetly set up a poker hand between Elfie and the snow people decorations of the house?
No, Elf business is a full-time job not intended for the weak of heart.
With Elf mania rearing its festive head all over the internet, we asked fans of the Macomb Daily Facebook page to share their favorite stories and photos.
Here are some of the ones we received:
Tammy Gottschling of Clinton Township said she "started doing Elf-on-a-Shelf to create fun memories for her eight-year-old nephew Ryan who lives with me. Everyday the Elf is in a different spot and Ryan gets very excited. It's like having Christmas every morning in December because of the surprise factor.
The scheme that may have received the best reaction was the toilet-papered Christmas Tree, Gottschling said.
"Ryan is always excited to see what the Elf got into the night before," Tammy said. "And so am I. "
At first, David Little of Royal Oak did like the Elf-on-the-Shelf concept one bit.
"I can be kinda cynical," said Little, who thought the "scout" or "spy" concept sounded too "creepy" to expose his kids too.
But when other family members started getting in on the act his heart softened.
"I figured 'what the heck?' my nephews and nieces really seemed to get a kick out it.
Now he and his wife Shannon have three elves that roam the house before Christmas Eve.
"My daughter loved the time we had the Elves build a blanket fort – for her," Little said.
Hope Comerford, also of Clinton Township, loved the Elf concept but not the look of the Elf-on-the-Shelf brand.
"I saw my friends posting pictures of their elves the last couple years on Facebook, but they looked so creepy I knew I didn't want one at my house," Comerford said.
Eventually she found, Elves from Catie, a brand that features a boy and girl elf -- just like Comerford's family – with proceeds supporting pediatric cancer patients and research.
Comerford, an elementary school music teacher and food blogger, was inspired to get creative after seeing fun ideas online.
"A friend of mine was doing some pretty genius things with her elves, so it sparked a bit of competitiveness in me," said Comerford, who's elves have done everything from use exercise videos, to read books, to zipline around the living room.
"I come up with my ideas by just looking around the house and thinking outside the box. I try to make them do things I think will make the kids chuckle.....or us chuckle. . As we get closer to Christmas, and I start to run out of ideas, my husband starts helping, Comerford said.
Last year's snowball fight in the living room, using mini marshmallows, was a highlight, Comerford said.
"The kids couldn't stop laughing ... and they were shoving marshmallows in their mouths as fast as they could, fearing we would tell them 'no!' at 7:30 a.m. "It was pretty fantastic!
And what parent wouldn't want to impress their friends with that Facebook photo?
maryanne.macleod@macombdaily.com
Purina pushes personal touch on social media
Tags:
(Posted on Dec 23, 2013 at 04:04AM by William Cosgrove)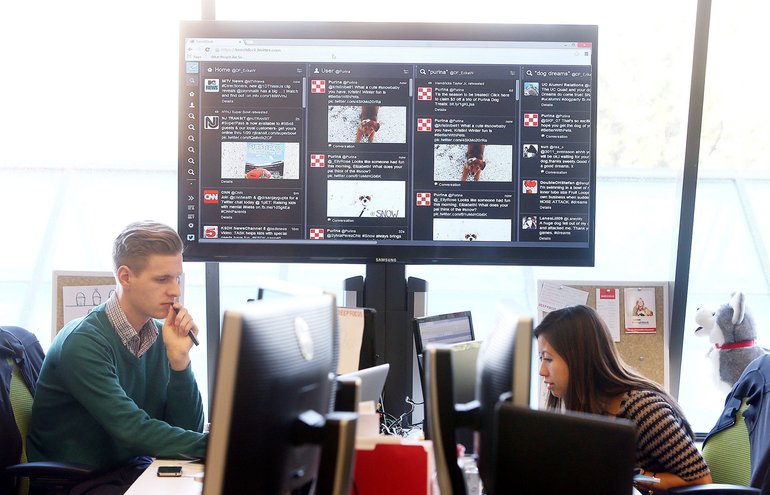 For those wondering whether anyone reads Twitter posts about their dog's birthday, one of the world's largest pet food companies, Nestlé Purina Pet Care, has its eyes and ears wide open.
Nestlé Purina Pet Care, like many companies grappling with how best to use online social networking sites to boost their brands, is taking a highly personal approach with its latest effort, called The Feed.
The Nestlé subsidiary, which is based in St. Louis, has had a presence on social media for several years, with multiple Facebook pages, Twitter accounts and LinkedIn sites offering information about the company and its products. It's invested heavily in social media, including hiring a cat food "correspondent" for its Purina Cat Chow brand and signing an endorsement deal in September with the owner of Grumpy Cat, a feline with a pouting face who has a large Internet following.
But Nestlé Purina, whose brands include Beneful, Friskies and Mighty Dog, is ramping up its efforts to make a more personal, direct connection with dog and cat owners on Twitter. San Francisco-based Twitter, the microblog site that has grown to more than 232 million users globally, allows anyone to set up an account for free and post messages of 140 characters or less.
Nestlé Purina developed The Feed this summer in partnership with Deep Focus, a New York-based digital marketing agency.
The Feed's employees — which number about a half dozen — reply to Twitter posts people make about their pets. Huddled in a room with more than a dozen computer monitors, a Feed staffer responds to a person's tweet about their dog or cat with a personalized message using the Twitter handle Purina, which has more than 18,000 followers.
Since The Feed launched, Purina has sent more than 20,000 messages on Twitter to pet owners, and many of those messages are then shared again on other sites, including Facebook, Tumblr and YouTube.
For those birthday photos pet owners tweet? Nestlé Purina copies the pet's photo and writes a personal birthday message before replying to the original poster.
Joel Lunenfeld, Twitter's vice president of global strategy, said Nestlé Purina's proactive, one-on-one approach resonated with Twitter users.
"Anything that's really personal to people, really works well on Twitter," Lunenfeld said. "A lot of brands are learning how to reply to people with customer service-based tweets. (The Feed) points to an evolution, and Purina is one of the leaders right now. They are pointing to not just an evolution on Twitter, but where marketing is going."
A challenge that companies face on social media is how to avoid making their messages too promotional or invading too far into people's personal spaces.
"You don't want to be overly promotional, because that's not going to work," said Perry Drake, an assistant professor of digital and social media marketing at the University of Missouri-St. Louis' College of Business Administration. "I think there is a risk if brands don't do this artfully, it could come across as a little invasive. Purina is doing it playfully and being careful with how they're doing it."
After a Twitter user posted a message about studying with their pet this week that included a photo of their dog, a Nestlé Purina Feed team member copied the photo and wrote the message "It's time for a study break" on the photo, with a link to games the pet owner could play on a break with their dog. Within minutes, the Twitter user retweeted Purina's message to her more than 500 followers.
The Feed also responds with links to information on caring for newly adopted pets, pet nutrition and other topics. Its response time to a tweet is typically within two hours after the original tweet was posted. That gives its photographers and videographers time to take photos and videos of employees and pets at Nestlé Purina's campus south of downtown that can be tweeted.
That immediacy is important, said Lunenfeld, especially when 76 percent of Twitter users are accessing their accounts on their mobile devices. "It's about what's happening right now," Lunenfeld said.
This summer, thousands of pet owners went to Twitter to post messages about their dog's or cat's fear of fireworks, and Purina seized on the opportunity to provide links to those tweets with information about ways to calm their animals.
"As we started to see all these comments, we knew that it was an issue that people were having and Purina could help," said Nestlé Purina's senior brand manager Michael Kotick.
The Feed is a more effective approach than merely tweeting generic corporate messages, Kotick said.
"Companies can find themselves isolated within their four walls, and Purina is not interested in doing that," he said. "Real-time social media allows us the opportunity to understand what people are thinking."
Purina's approach is a more advanced use of social media than many companies', UMSL's Drake said.
"Some companies are using Twitter more for customer servicing," such as airlines' replying to complaints about late flights and lost luggage, he said. "Purina is on the cutting edge, and this is the progression of where things are definitely heading today."
Each month, Twitter estimates there are about 1.7 million tweets related to pets. Through its software that identifies relevant tweets, The Feed's team members read 5,000 tweets a day and respond to about 1,000 a week.
Most companies have a response rate on social media of less than 10 percent for their brands — which are the messages they produce that are retweeted or commented on, Kotick said. Purina's response rate using The Feed is more than 80 percent.
The company has found that its engagement scores — a gauge of how often tweets are retweeted or designated as a "favorite" by Twitter users — are improving, and it's evaluating ways it can expand The Feed for specific brands.
"We are currently evaluating ways we can grow The Feed and integrate it with our pet food brands," said Nestlé Purina chief marketing officer Steve Crimmins. "The Feed is a unique and innovative approach for us, and one that we are very excited about. This approach enables us to connect with pet owners in a personal and meaningful way centered on our shared passion for pets, life with pets and all the great moments that come along with them."
The picture shows
Associate manager of social media communications Rex Oberle, left, with Nestlé Purina Pet Care's social media effort The Feed, and senior manager of social media communications Patricia Lee monitor Twitter on Dec. 11 in St. Louis. (Stephanie S. Cordle/MCT)
By Lisa Brown, McClatchy-Tribune
How to Increase Your LinkedIn Engagement by 386% [Infographic]
Tags:
(Posted on Dec 22, 2013 at 03:50AM by William Cosgrove)
LinkedIn may not seem as sexy as Twitter or Facebook, but with over 259,000,000 users and 2,100,000 groups, it's a social channel that you can't ignore.
Sure, you won't generate as much traffic from LinkedIn as you will from other social sites, but it's audience tends to be businesses, which means each LinkedIn visitor is going to be worth more money.
So, how can you leverage LinkedIn? Well, you probably already know that posting on the weekdays during the mornings helps. But did you know that if you do 20 posts a month, you'd reach 60% of your audience?
Courtesy of:
Quick Sprout
LinkedIn may not seem as sexy as Twitter or Facebook, but with over 259,000,000 users and 2,100,000 groups, it's a social channel that you can't ignore.

Sure, you won't generate as much traffic from LinkedIn as you will from other social sites, but it's audience tends to be businesses, which means each LinkedIn visitor is going to be worth more money.

So, how can you leverage LinkedIn? Well, you probably already know that posting on the weekdays during the mornings helps. But did you know that if you do 20 posts a month, you'd reach 60% of your audience?

If you want to maximize your LinkedIn engagement, just follow the steps in the infographic below.
Click here to view an enlarged version of this infographic
.
Conclusion If you aren't leveraging LinkedIn yet, hopefully the infographic above changes your mind. And if that doesn't, consider that the highest quality of leads that I generate for
NeilPatel.com
tend to come from LinkedIn ads.
Three simple ways in which you can get more traffic from LinkedIn are:
When you post images, you'll notice that you get 98% more comments.
If you link to your YouTube videos from LinkedIn, on average, you'll generate 75% more shares.
Keep in mind that 60% of your connections on LinkedIn are interested in industry updates, while only 43% are interested in news and products from your company.
So, in what other ways can you leverage LinkedIn?
by Neil Patel
Social Media Accounts for Only 2% of Holiday Online Spending
Tags:
(Posted on Dec 21, 2013 at 04:20AM by William Cosgrove)
While retailers are busy focusing on their Facebook pages and Pinterest boards this holiday season, new research is looking at how effective social media is in online holiday sales.
Custora, an e-commerce analytics company has suggested that a very small percentage of online sales actually come from company's social networks. Only 2% of unique sales made since November 1, 2103 started as a social media post that a potential customer clicked on. This information comes from information on 100 U.S.-based retailers, 70 million online shoppers and over $10 billion spent.
So where are the sales originating from?
26% of sales started with an organic search. 25% of sales started with a direct visit to the retailer's website. 17% originated from email marketing, and 16% originated from a paid search. The majority of the stores included in this story are pure e-commerce stores (they do not have brick-and-mortar locations). They included companies like Etsy, One Kings Lane, Rab, Birtchbox and Bonobos.
According to Corey Pierson, so-founder of Custora, "It is fair to say – and perhaps pretty surprising – that clicks from social very rarely directly lead to orders." Despite this, Pierson also points out that the retailers with the highest index get approximately 10% of their sales from social posts during the holiday season.
Of the sales that did originate from a social post, 80% of them came from Facebook, 15% came from Pinterest and 5% came from Twitter. The growth of sales from social media is also growing slower than the growth of sales in other areas of eCommerce.
During the holiday season (from November 1 through Christmas); sales from social networks grew approximately 19%, which is inline with overall sales growth during the holiday season.
According to Target, which is was not part of the Custora study; their web traffic grew approximately 70% in the six weeks following their introduction of the Target Awesome store, which highlights products that are widely pinned on Pinterest.
By
Melanie Williamson